Debate Takes Off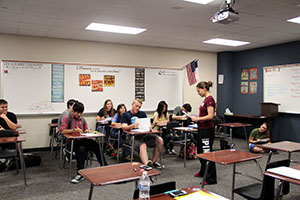 Four corners; strongly agree, agree, strongly disagree, and disagree are your homes in the war zone. Choose your team and plan your attack.
All these topics are thrown back and forth like snowballs in Debate teacher Janet Stackhouse's room. The judge listens to the opposing sides and chooses the winner. After four years of waiting, the school finally has a debate class, with Stackhouse as the queen.
Stackhouse decided to take on the challenge of starting debate in our school for the first year. "It interested me a lot," Stackhouse said, "I never had an opportunity to teach extracurricular."
Right now the students are taking their time preparing for UIL contests, which start in the spring.
Students start by preparing both sides of an argument through research. Once they have gathered all their information, they decide their stance on the argument and take their places in the room. These debate topics range anywhere from what's the best candy, to should the death penalty be abolished?
"This class is much more relaxed than most classes. It's about talking and discussing." Stackhouse said. "It's all student driven."
Many students have been trying to join the debate class.
"I chose debate freshman and sophomore year, but it wasn't a class until now." Junior Bri Sowell said.
"Last year we did a small unit on debate in English and I found it really interesting," Freshman Mady Thomas said. "I found that I enjoyed it, so I decided to take it this year."
Debate offers students a new view on structured arguing. It helps them get their point across without getting emotionally involved.
According to Stackhouse, the class is having a successful start and the school is expected to have a Debate II next year.