New Armed Drill Coach Prepares Drillers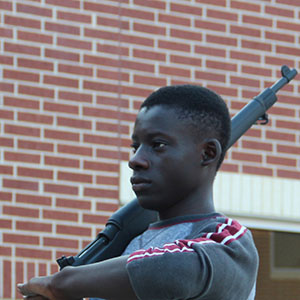 As school starts, it's time for the Wildcat MCJROTC Armed drill team to take out the drill rifles and get ready for the first drill meet on Dec. 6.
Junior Drill team commander C/Ssgt Nicholas Eckert will be leading the wildcat drillers this year.
"Yes I believe 100% that my drill team will be ready," Eckert said. "And I think that the new drill kids will be ready for competition just as my veterans are."
Eckert has been on the drill team for 3 years since he was a freshman.
"My drill coach was the best we have had for the drill team, but sadly he graduated last year, so we do not have the privilege this year for  him to teach our new kids to drill this year," Eckert says.
Every year the ROTC drill teams have four drill meets in which they compete.
"The hardest thing I will have to teach them is not to be scared of the rifle when it spins in front of them," Eckert said. "But I have complete faith in them."
For each drill meet, they have an inspection where they must pass before they can perform their drill routine. In each inspection each cadet will be tested out on the knowledge they learn in everyday ROTC classes.
"I think they will be squared away with not only their knowledge but as well as their uniforms," Eckert said.
For freshman first year cadet,  Seth Aurelius, the new stress was a reality check.
"I was on the drill team at Willow Wood, but the drill team here is more serious about practicing and winning the drill meets." Aurelius said.
As history repeats itself, many of the new drillers will crack under the pressure of everyone looking at them.
"It might be hard but when it comes down to it, however, I think we can stand strong as one unit and be victorious." Aurelius said.
Coming from an Army LOTC to a Marine Corps JROTC has made it difficult for the new cadets especially the drill kids.
"The hardest thing for me to understand was that every command is called on a different foot than it was in LOTC,"  Aurelius said.
For second year drillers it's sort of like the first day of school. You come in to meet everyone then start all over and then learn the same exact thing as last year.
"The only new things we get, is the new experiences from the drill meet." Second year driller Hayden Power said.
Being a second year driller, the team commander gives responsibilities that no one else can handle.
"The most impressive trick I can do is the quadruple liberty toss. It's where I throw it up and it spins four times in the air and then i catch it." Power said.
With all their hard work and knowledge now under their belt, the Wildcat drill team will take it and compete on Dec. 6.
"The best thing about being in the drill team is the camaraderie you build with the other cadets on the team." Eckert said.