Dodgeball Tournament Raises Funds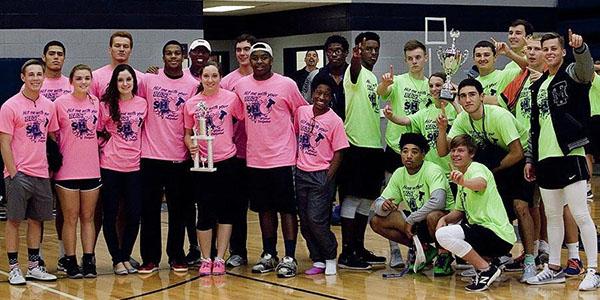 The soldiers are prepared for battle, the ammo is fully stocked across the court, and the battlefield is set. Saturday Nov. 15 the Senior Ladies held a dodgeball tournament to help raise money for the senior's project prom this year.
Every class was invited to play at the event to raise money, however, only the juniors and seniors created teams to play on Saturday.
"The senior ladies hosted the event, with help from the SPO. I wish that more organizations would have participated to help raise more money," Volleyball Coach Sydney Milburn said.
Although only the juniors and seniors played at the event, five teams of 11 were to play to raise money for project prom.
"When I was gathering players for my team, I looked for the most athletic guys and girls from my class," Senior Layla Haidar said. Seniors Ashleigh Robertson was a part of Haidar's all-senior team to help raise funds for project prom.
"Isaiah Batts was probably the best player on our team, he made some amazing catches and threw incredibly hard and fast," Robertson said.
Haidar's team, "Globo Gym", came out as the champions, taking down all competitors with her dream team of student athletes.
"I of course hoped to win, so we did just as good as I had expected us to do," Haidar said.
Since this was the first year for the dodgeball tournament, there is still a lot of room for improvement in helping to get more students involved as well as getting more funds for project prom.
"I really hope it will become another tradition," Milburn said. "I think that with each year we can find ways to make it bigger, better, and more fun for all the students and teachers involved."