Cooking Club Brings People Together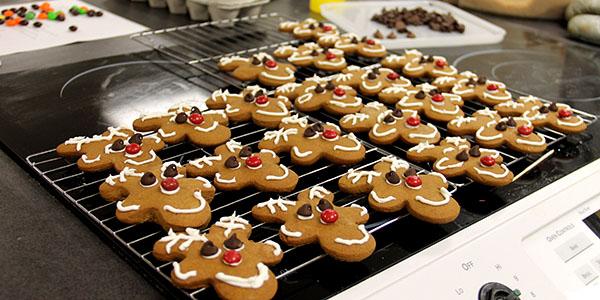 The cooking club is growing into a sweet smelling, brand new organization. With monthly meetings, the club is opening many students eyes to the culinary arts.
Student met in the upstairs kitchen on December 3 for cooking club.
"Cooking club isn't just for a specific group of people," sponsor Brandi Elrod said. "Anyone can be in cooking club. I started it for people that love to cook and already took the nutrition class."
Cooking club started as a small organization, but it is starting to slowly grow into a popular club.
"I'm a foody," Elrod said. "If I didn't cook when I was younger, I wouldn't eat at all."
The club is open to all grade levels and is a diverse group of people. Junior Kristianna Versteeg is not only in cooking club, but is also a member of the Roaring Blue Band.
"I've been cooking for about ten years," Versteeg said. "I just love going through the process of creating something new."
The students in cooking club range from having years of experience to a few months of experience.
"I starting cooking last year at Willow Wood," Freshmen Stephanie Melesio said. "I love the cooking club more because you have more independence in what you do. It's really refreshing."
Instead of having a teacher breathing down your neck while you cook, cooking club gives its members more freedom. When you walk into the kitchen, you are assigned a kitchen to go to, then you are given a recipe to begin.
Each month, the cooking club cooks different deserts. For December, cooking club made gingerbread reindeer using upside down gingerbread men and icing.
"The club is giving everyone an opportunity to cook more," Elrod said. "Plus it's a skill you need to know for life."