The Star Cheerleader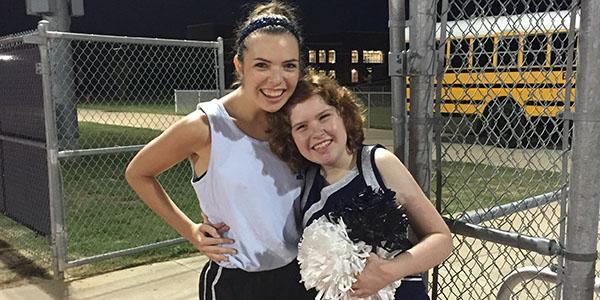 As her name echoes from the speakers, she looks up from her sparkly Wildcat uniform and smiles as hard as she can. The bleachers explode with applause and cheers as the crowd sings Happy Birthday to her on the night she cheers for the Wildcats.
Senior Morgan Fleckenstine cheered for the first time with the JV squad September 10, and is looking forward to cheering at the Homecoming game on October 2. After years of taking classes out of school for cheer, she is finally able to do what she loves for her school.
"I wasn't nervous. I was excited," Fleckenstine said. "I was with the other cheerleaders cheering, and I even knew all of the cheers."
With help from her sister, sophomore Taylor Fleckenstine and cheer coach Tancy Juliano helped set things into motion to help Fleckenstine cheer her last year of high school.
"I had Taylor last year when she was a freshman," Juliano said. "She told me Morgan's biggest dream was to be a cheerleader, and she asked me if there was any way I could help."
When Juliano figured out her schedule and Fleckenstine was fitted for her Wildcat uniform, time flew by and she finally got to cheer for the first time.
"It was my birthday," Fleckenstine said. "They sang happy birthday to me, and at the end I took a bow."
Anyone who knows Fleckenstine is fully aware of her bright and positive attitude. In the hallways, she says good morning to anyone she sees and tells them to have a good day.
"She's so happy and excited about everything," Fleckenstine's sister said. "Morgan is always smiling."
Since anyone can remember, she has always been involved in choir and dance. Both in school and at home, Fleckenstine shows her love for singing and dancing.
"Morgan loves to perform. Nothing bothers her in the crowd," Fleckenstine's father said. "When you walk by her room or by her bathroom when she's in the shower, she's always singing something or dancing."
Fleckenstine has come a long way from dancing in the privacy of her room, though. Now, she's taking her talent under the Friday Night Lights her senior year.
"No matter what she does, people will smile when she's on that field," Fleckenstine's father said. "That's what she loves to do."
After years of dreaming about cheering at the football games with the roar of the crowd behind her, it's finally come true.
"I'm so happy," Fleckenstine said. "I'm so happy I'm a cheerleader now."