Deutscher Samstag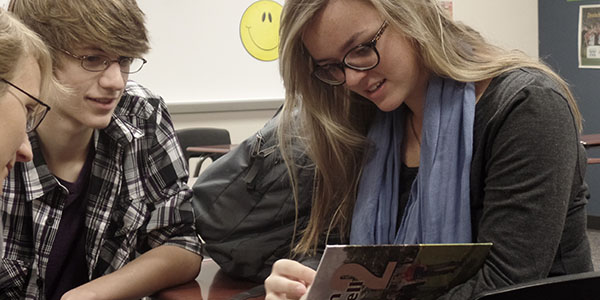 Deutscher Samstag, which is German for German Saturday, is a gathering for around 300 students from 15 schools that are taking, or have taken German as a foreign language. Students meet and are able to use their German speaking abilities to have conversations with other students on November 14.
Germany is a very cultured country and not many teens in the area are able to travel to Germany first hand. That's why there is Deutscher Samstag.
"German teachers in the area thought it would be cool to do this type of thing," German teacher Yvonne Thomas said. "Students and teachers speak only German all day within the activities they do during the day."
During the day, students can engage in fun activities such as playing Twister in German and playing Bingo in German, or can spend time in the cafe drinking coffee and eating coffee cake.
"We give students 10 fake Euros. Five that they use for the lunch line, and the other five they can spend on their activities," Thomas said. "Every activity you do cost one Euro, so they have to spend them wisely."
Students are not required to go to Deutscher Samstag, but for those who do, they get a good experience. Noah Edwards is a sophomore in German II, and this is his first time going to Deutscher Samstag.
"The thing I'm most excited for is being able to other German students," Edwards said. "I'll finally be able to practice with another person outside of school."
With Deutscher Samstag just around the corner, Thomas is excited to be part of this fun, exclusive event.
"Spanish and French don't do this type of thing," Thomas said. "We put forth that extra effort in order to keep kids involved and enjoy the German experience."