Student Council Attends Leadership Convention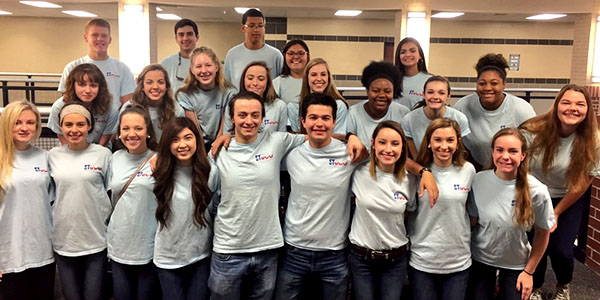 On November 4, the Student Council, as well as the Tomball High Student Council, attended the annual fall Texas Association of Student Councils' District 7 convention. The conference was held at the M.O. Campbell Center in Aldine independent school district, and many different schools from the area participated. Activities included team-building games, a guest speaker, and presentations of t-shirt designs and community service projects from each school.
"I wanted the students to have time to work as a team," Student Council advisor Irma Sibert said. "My main goal was for them to be inspired."
Sibert explained that the convention is a great time for the Student Council to interact with and meet new people.
"I took our officers to camp this summer, and now they got to see them at convention and just hang out with them," Sibert said.
The Student Council especially spent the day with Tomball High School, who they shared a bus to and from the convention with, and also ate lunch together.
"It was nice to work with Tomball because it's a reminder that not everything is about competition," Sibert said. "This was a great opportunity for us to help each other to serve others."
Sophomore Emma Jo Koch agreed that it was cool to work alongside Tomball.
"I just moved here, so I've heard a lot about our rivalry with them," Koch said. "It was nice to not have that rivalry for a day, and work together on leadership instead."
Koch explained that there was a guest speaker from the Thirst Project, who taught the Student Council about leadership.
"It was really cool and interesting to hear his personal stories about a subject like the water crisis," Koch said. "I learned a lot of different ways to be not just a good leader but a great one."