Senior Ladies Host Mr. Wildcat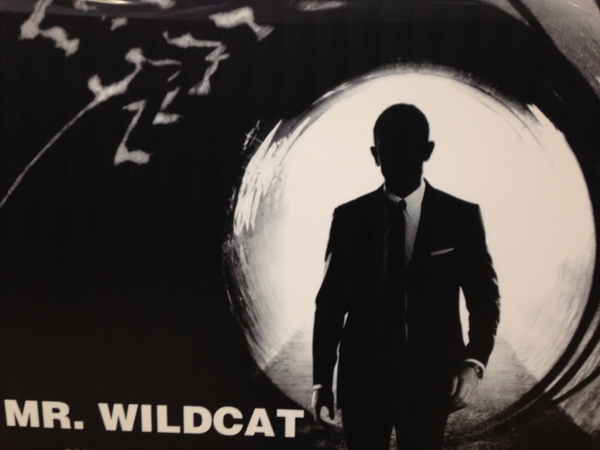 Mr. Wildcat, a male beauty pageant for seniors, is being hosted and held by the Senior Ladies in the auditorium at 7:00 p.m. on February 11th. This will be the first ever pageant of this kind at the school. However, if the enthusiasm and excitement it has received continues, it will potentially become an annual event.
"We had something similar two years ago for the junior class fundraiser," Senior Ladies Club Co-Sponsor Janet Stackhouse said. "It was called King of the Jungle, but we haven't done anything like it since."
The pageant is a fundraiser for the Senior Ladies, who decided to host it when they observed how many local schools hold a similar event.
"The idea was a combined effort between the Senior Parents Organization and the Senior Ladies," Stackhouse said. "The money will be used for student's attractions and prizes at Project Prom."
There is a total of 11 contestants, but senior theatre president Nick Ysa says there is only friendly competition between them.
"The only time we've been competitive with each other has been over who can raise the most money," Ysa said. "I'm sure during the show itself we'll get more into it."
Each guy will model tuxedos, donated by Al's Formal Wear, and their choice of casual wear. They will also each perform a personal talent, and the final five will be asked interview questions.
"We have not been prepared at all for the questions," Ysa said. "They haven't given us a list, so we don't know what to expect."
Perhaps the most anticipated part of the show is the talent section, the chance for the contenders to show the judges the reason they should win.
"It's a shocking variety of talents," Ysa said. "There's synchronized swimming, juggling, interpretive dance with a trumpet, and a lot more."
Finally, there were superlative contests at lunches, where the student body voted on each contestant's best quality.
"These included best flex, best eyes, best smile, and best hair," Senior Ladies Co-President Rachel Perucki said. "Also, each guy went around trying to raise money for best personality."
But the boys are not the only feature of the pageant. Contestants will be accompanied by escorts, which include many of the Senior Ladies themselves.
"We tell them that they are there to make the contestants look prettier," Stackhouse said. "A lot of the escorts are Senior Ladies, to try and get more people involved."
In addition, the backstage is ran widely by the Senior Ladies.
"There's a lot of facilitating by girls that are not escorts who are very involved in getting people from Point A to Point B, and cuing people," Ysa said.
The winner will be chosen by a total of five impartial judges, without any personal connection to the school.
"The judges are local community members," Stackhouse said. "They're business people from outside the school."
The first place winner, first runner-up, and second runner-up will win cash prizes.
"Mr. Wildcat wins $250, second place wins $150, and third place wins $100," Perucki said. "All of the other contestants will be rewarded gift bags and gift cards."
The Senior Ladies hope for success, and even that the male pageant will become an annual event.
"I think it should definitely be tradition," Ysa said. "It requires an immense amount of planning and communication between the Senior Ladies and the theatre department."
After a great turn out, Grant Tran won 3rd place, Nick Ysa won 2nd and Gage Beaty was crowned 2016 Mr. Wildcat.