Silver Stars Sweep Awards at Contest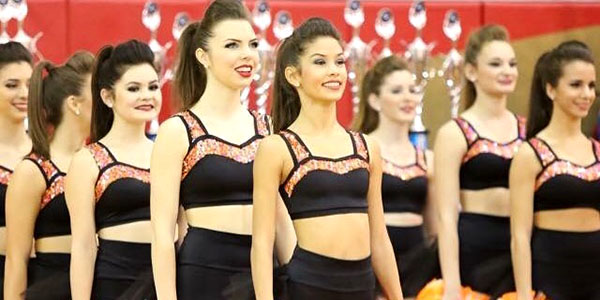 The past two weekends the Silver Stars have competed at the Crowdpleasers and Champions dance contests, bringing home several awards, including the first place award for the Large Team division, highest GPA, and most importantly, Overall Grand Champions.
"I heard our name and then everybody stood up and started screaming," sophomore Silver Star Mallory Pennington said. "Ms. Nail and the officers had pushed us so hard and it was all worth it."
The overall win didn't only elicit over-the-top reactions from the team, but also from Director Samandra Nail.
"All the girls looked at me, and I looked at the other directors, then they called our name and I began to cry immediately," Nail said. "It was the best feeling."
Several factors contributed to the Silver Stars win, but most important was their hard work ethic and perseverance.
"We knew it would be hard," Senior Captain Shelby Reynolds said. "But instead of accepting that, we tried to do better on a personal level, and grow as a team."
This is the first Overall Grand Champion award for the Silver Stars, which is a big accomplishment for such a young team.
"The other team's standards have already been set, but we're still working towards forming those expectations," Reynolds said. "It's really cool to be able to say we're the first Silver Stars team to win Overall Grand Champions."
This was the last contest season for all the seniors on the drill team, and was a bittersweet experience to say goodbye to.
"For so many of them, they've been on my team for four years now, and they've seen how it's transformed into a well-established program," Nail said. "We want them to be able to come back and be even more proud."
It wasn't just the dancing or desire to win that pushed the team to do so well, but also their synchronization as a team and ability to work together.
"They push themselves, and it's not just for themselves, it's for each other," Nail said. "They've learned how to work together as a team, to meet a bigger goal. I haven't seen that with other groups. This one has been different."