Clubs Team up to Create Art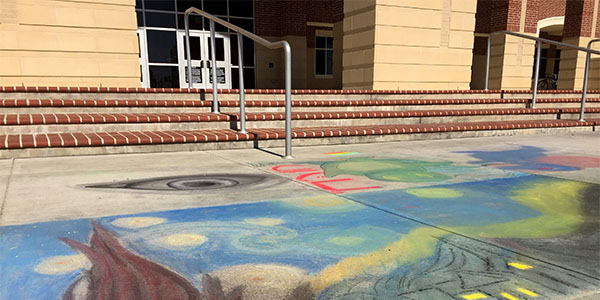 On March 3, the art club and student council met to draw chalk art in front of the school.
The Chalk Art Project was completed by the clubs' members, and they got creative. A few of them drew pieces of famous artwork such as Starry Night, and iconic stars such as Marilyn Monroe.
"This project was originally created by Art Club," StuCo committee chair member senior Chelsea Coronado said.
After the idea was proposed, StuCo had an idea to team up and make art as two different organizations.
"We got involved when one of our committee members thought it'd be cool to draw the chalk art with the art students," Senior Chelsea Coronado said.
More than 30 people showed up after school to help create the chalk murals for all students to see.
"Thursday was World Youth Art Day and Wildlife Day so some students used that to inspire their drawings," StuCo adviser Irma Sibert said.
Some participants were not part of either club, but came to simply enjoy themselves and get creative.
"We all had a lot of fun and will do this again." Coronado said.