Student Council Prepares Homecoming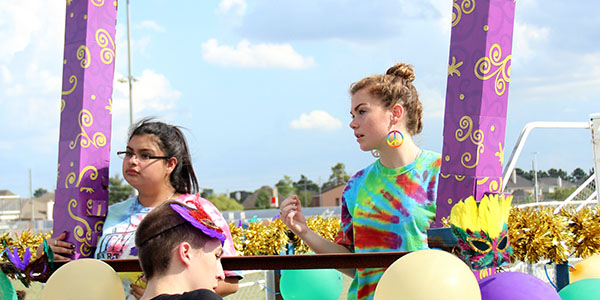 Homecoming week is one of the most exciting times of the school year, and the busiest time for Student Council officers and committee members. The Pride and Patriotism committee is in charge of planning and holding the homecoming dance, which is student council's main fundraiser for the year.
Officers and committee members work to organize all homecoming related events, including dress up days and the theme and decorations for the dance. The leadership team also manages ticket sales, nominees for the court, and advertisements for the dance.
"The process of preparing for the dance has been fairly smooth so far," Pride and Patriotism officer Erin O'Connor said. "I was nervous to begin this task since this is my first year as a member of the leadership team, but my committee has been amazing and as a team we have gotten a lot done."
The Pride and Patriotism committee began working on plans for homecoming before this school year, over the summer. The theme, "A Walk in the French Quarter," was decided then, and the layout for the dance was prepared.
"My favorite part of preparation so far has been designing the layout of the dance," O'Connor said. "It will be amazing to see the design I and others have pictured in our minds come to life in the hallways."
On the day of the dance, leadership team members will arrive at the school at 6 AM to beginning decorating the cafeteria. Student Council president Alanna Ford has been a member of the leadership team for three years and feels comfortable with planning homecoming.
"So far, my time as president has been exciting," Ford said. "Prepping for homecoming is always a bit stressful, but this year has been more relaxed and work has been done efficiently."
Often, students wonder if they should go to homecoming or not, but after learning about the hard work Student Council puts into the event, feel more inclined to go.
"I encourage students to go to the dance because it is a big part of the high school experience," Ford said. "Students should go to as many spirit and school events as possible; we should enjoy and make the most of our time during these years before we graduate."