FFA Students Compete in First Competitions of the Year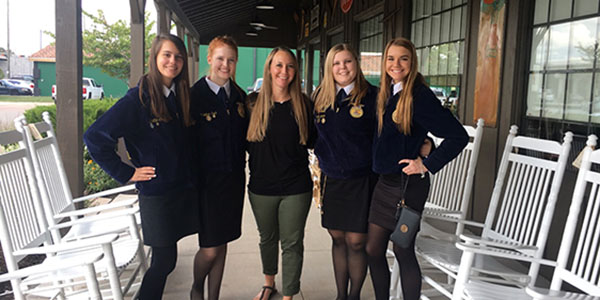 This past Thursday, FFA students competed in their first competitions of the year. The contests were held at the Prairie View A&M campus.
Senior Peyton Hines competed in the Radio Broadcasting Competition.
"This was my first time ever competing in an FFA competition," Hines said. "I became involved when my friend, Katie Jennings, who has been an active member of FFA all throughout high school, told me I should attend one of their first meetings of the year."
Hines decided to compete in the radio broadcasting competition due to her public performance experience through the Wildcat Theater program.
"For the competition, competitors enter a broadcasting room," Hines said. "There, we broadcast our topics over a radio to judges who score us based on our volume, diction, and more."
Senior Katie Jennings competed as well this past week in the Public Relations competitions.
"In the Public Relations competitions, competitors memorize a script over a certain topic and present it to judges," Jennings said. "This year, our theme is to promote FFA programs in schools by appealing to administrators."
Jennings told Hines to consider joining the program because she believes as many people should join FFA as possible to experience the opportunities given by the program.
"I encourage everyone to join FFA," Jennings said. "The program is rewarding and a great association to be involved with. My high school experience would not have been the same if I were not a member of FFA."
Along with competing in the Public Relations competition, Jennings is also showing an animal and competing in Ag Sales. FFA's next competition is on October 28.