Band Competes in First Contests of the Year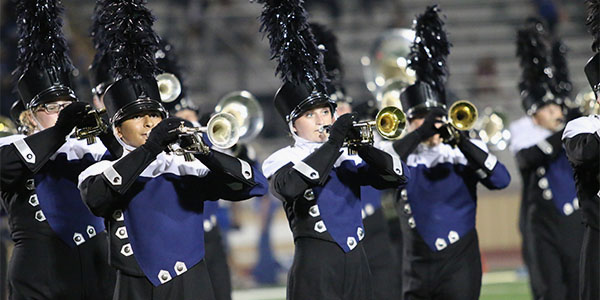 Months of preparation have led up to this moment. Long hours of practice, both on the music and the marching, have all been for this. The band takes a collective deep breath, and the music begins.
October, affectionately known as "bandtober" by the students and directors, marks the beginning of contest season for the marching band. Every Saturday there is a new contest, and some are even during the weekdays.
"Contest season is my favorite part of marching band," junior woodwind captain Emilie Moellmer said. "I love being around everyone and performing at the competitions."
Due to the sheer amount of drill, the band was unable to finish out the show before the first contest. They stopped five sets, or moves, before the end at the Katy ISD marching contest.
"Every year we try to take the drill and the music up a level," band director Andy Easton said. "It's not a bad thing that we had to stop early. In fact, we've done it before."
All practice is now dedicated to cleaning the music and the marching.
"We definitely want to focus heavily on the cleaning now," Easton said. "That's how we get better."
While the contests attended lead up to UIL, every contest is considered important by the band.
"UIL is what we're leading up to, but we want to do well at all of our contests," Easton said. "All competitions are extremely important."
With only two weeks left in the competitive marching band season, the band is pushing to end the season with a bang.
"Every contest makes us better," sophomore Juliette Chojnacki said. "Performing for a crowd that is there just to see you is like nothing else. When you get on the field, you realize every moment of practice was worth it."