Student Appeared on ESPN for Veterans Day Hunting Special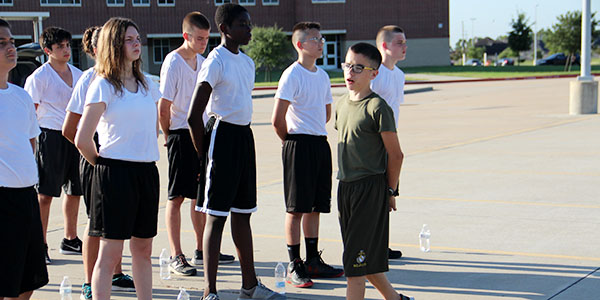 Everything is said to happen for a reason. When sophomore Jake Worrell lost his father in the special forces in 2006, his views on life changed.
"It really changes your mindset when you go through something like that," Worrell said. "You start to rethink everything and it makes you realize that life is short; we need to take advantage of all the opportunities we get."
Worrell is now part of a program called Children of the Fallen. Through this program, he connects with other children who have suffered from the same event, while getting to do activities, such as hunting.
"I can't connect with an everyday kid like I do with them," Worrell said.  "It was only my second time hunting, but being able to go out and share that with other kids is an indescribable feeling."
ESPN decided to do a Veteran's Day hunting special for the second time with the Children of the Fallen. Before being able to participate in this special, Worrell had to sign a waiver.  Little did he know, that after signing this he would be told that he was a vital part of the special.  
"It was a mental preparation," Worrell said. "I was kind of like 'Hey ESPN is going to be there, and it's going to be fun.'"  
The filming process was different than he imagined, yet fun for Worrell. He even got to have his own cameraman follow him out while he embarked on his afternoon hunt.  
"They sent out a cameraman with me on my hunt that afternoon and I shot a 10 point deer," Worrell said. "It's exciting that that was on ESPN."
Another program very close to Worrell's heart is ROTC.  Through this program he gains essential life skills that he will be able to use forever.
"It is a cadet run program; so I'm in charge of about 20 kids, and those 20 kids look up to me," said Worrell.  "I have all their records and I'm in charge of them; it really teaches me leadership and responsibility."
Since Worrell's father was part of the special forces, this military based program helps him cope with his loss.
"When I'm in ROTC, I feel spiritually closer to my dad," Worrell said.
The Veteran's Day hunting aired on November 11th and reran the whole day. Using social media, Worrell advertised the special himself.
"It was really cool to get a lot of viewers from school; the support was great," Worrell said.