Junior Serves as Drill Team Captain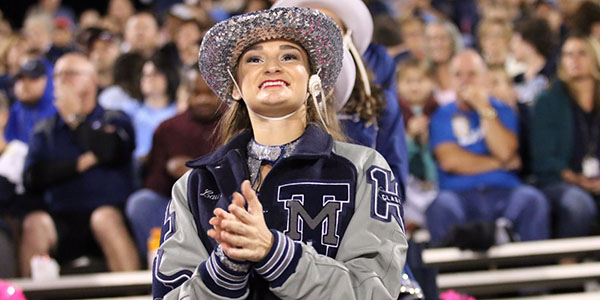 When the first half timer went off, the football players left the field and the Silver Stars walked out. Leading the team was the new junior captain, Lauren Murray.
"When the former captain pulled me aside and gave me a secretive envelope, I opened it and was immediately filled with excitement because I knew that a part of my life was about to change for the better," Murray said.
The envelope contained an official statement saying that Murray had become the next captain of the Silver Stars. She was in disbelief that all of her hard work had payed off and her goal had been accomplished.
"When I was a kid, I became bored of playing volleyball and tennis," Murray said. "I decided to start dancing."
Six years ago when she started dancing, she never imagined that she could make it this far. Now, she is the head of the Silver Stars and loves to incorporate her style of dance and leadership to the team.
"I enjoy helping and watching the team grow," Murray said.
When trying out for the 2016 team, Murray was open to any dance officer position, but was joyfully shocked when she found out that she made captain. Some of her teammates, however, already expected her to make captain.
"I knew that she would get the captain position because she worked for it and I knew that her personality and skills would benefit the team," junior Annamarie VanHeerden said.
Many of the Silver Stars love having Murray as captain. She has passion for dance and has the ability to stay positive even through the most stressful practices and performances.
"At summer camp, we had to kick a mile around the track, and even though it was extremely hot and we were all exhausted, she pumped us up and we pushed through the pain together," junior Caroline Buchanan said.
The Silver Stars have no off season and are always preparing for their next performance, whether it is football season or contest season. Lauren enjoys football season the most.
"I love football season because every week is a new chance to perform and show spirit for the school and my friends and family," Murray said.
Gail Murray, Lauren's mom, has been there for her throughout her dance career. She is glad to see all of the work that Lauren put into officer tryouts finally pay off.
"I am filled with pride when I see Lauren dance because I know that she is doing what she loves," Gail Murray said.
Lauren has a lot of pride for the Silver Stars. So far, her proudest moment was when the team won Grand Champions at their last contest in 2016.
"Within seconds of the announcer saying that we won, the whole team was up off of the floor, screaming and cheering," Murray said.
Aside from the team's talent, she simply enjoys spending time with her teammates. Murray says that the team has bonded together through all of the random, spontaneous, and funny moments that they share.
"Throughout my years on the team, I have made great memories that will last a lifetime," Murray said.
As a captain, Murray must fulfill the duties of giving out demerits, preparing the team for performances, and being a positive role model.
"Some people say that being captain seems like a hard task, but I love my team," Murray said. "I am so excited to watch everyone, including myself, grow and leave a legacy for years to come."