Hearts Light Up the Halls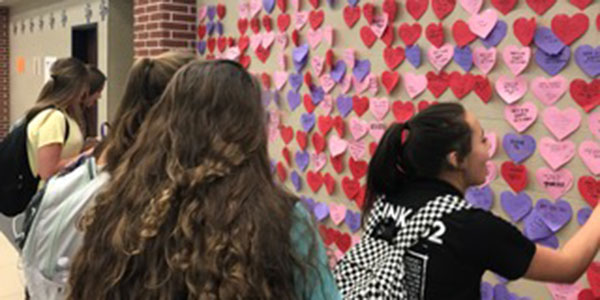 While some students were out of town and enjoying vacation time during spring break, fifteen members of the Student Council Leadership Team worked on making sure each student had an empowering message dedicated to them in the hallways this Friday.
Written on the hearts are ten different quotes selected by the StuCo crew. The LT cut out over 2,200 paper hearts and worked for over three weeks during spring break, lunch, and after school to make sure each student received a personalized heart.
With a goal to empower the entire student body, Vice President Gianna Sperduti did just that.
"I came up with the idea in hopes to bring people together and make students feel happy and empowered," Sperduti said.
The hanging hearts were part of "BeYOUtiful" week.  This week was meant to empower students and teach them to love who they are.
The daily themes were:
Tuesday: No Hair Product
Wednesday: Natural Day (No/Minimal Make-Up)
Thursday: Dress to Impress (Make yourself feel good)
Friday: We Love You (Pick up your hearts along the hallways)
Every person's empowering heart quote is located along the main hallway.  Freshman hearts are placed on the window near the cafeteria, Sophomore and Junior hearts are on either side of the library, and Senior hearts are located in the athletic hallway.
As people take their hearts off of the walls, there are smiles seen all around the school.  Sophomore Emily Van Dyck is one of many people who feel StuCo made her day better.
"I was impressed with the quality and time spent making these crafts; it really boosted my self-esteem this morning," Van Dyck said.