Juggling School and Jobs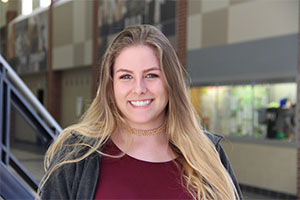 Maintaining a job and performing well in school is a situation that many high school students struggle with. Some students work to make money for their family or to pay bills; others work for spending money.  
Senior Alyssa Holloway has been working two jobs for nearly a year to save enough money to get an apartment. She is also planning to travel to Australia with the science department.
"Between working at Mia Bella and Northwest EMS, I'm getting around 30-40 hours a week, which is really helping me increase my savings account," Holloway said.
Throughout previous years of high school, Holloway has taken advanced courses, but due to her EMT class, was forced to cut down on DC classes.
"The EMT class is where most of my homework comes from; it takes a lot of time and effort to maintain a high grade in there," Holloway said.
One might expect a student who balances two jobs and school to not have any free time, but Holloway seems to have found time to spare.
"A lot of my free time is spent working out, and occasionally I'm able to see my friends in college," Holloway said.
Holloway plans to attend Lone Star and earn her basic credits there. She would then like to transfer to A&M and study for a Bachelor of Science in nursing.
"To work towards my goal of becoming a nurse, I'm going to get my EMT certificate this summer," Holloway said. "After that, I'll be training with Life Flight," Holloway said.
Of course, there is a lot of stress that comes along with balancing work and school.
"I deal with stress by working out and listening to my playlist that I put on repeat, all of the time," Holloway said.
Senior Alyssa Holloway may seem like an ordinary TMHS student, but truly she is the one of the best at juggling a busy schedule.
"I've never seen a high school student who works as hard as Alyssa to maintain her grades and keep two jobs," senior Madeline Ellis said.