A Hidden Look at Shattered Lives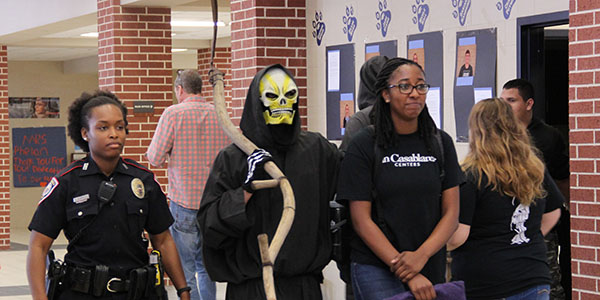 On March 1, many juniors and seniors raised awareness of the dangers of drunk driving by participating in the Shattered Lives program. The event, which occurs every other year, continued until the afternoon of March 2nd. Over 80 students participated.
"The reason I decided to participate is because the program has good intentions and I agree with their message," senior Lauryn Juvinall said.
Junior Meredith England was one of the participants who was randomly chosen to be in the accident scene. The scene contained student actors, real cars, destroyed bikes, fire trucks, police officers, EMTs, firefighters, ambulances, and a morgue.
"I remember standing in shock," Juvinall said. "I knew the accident wasn't real, but thinking that my friends, and others I know, could very well end up like that terrified me."
Every student had to follow certain rules in order to participate in the program. All communication between the individual students and anyone outside of the program was cut off during the event.
"None of us were allowed to go to class, and if I saw a friend who wasn't participating, I couldn't speak to them," England said.
Every participant joined for different reasons, whether it was due to a real life experience, or because just wanted to spread the message. "I've had family members involved in drunk driving accidents, so that opened my eyes to the dangers of it," England said.
"I've had family members involved in drunk driving accidents, so that opened my eyes to the dangers of it," England said.
After the crash scene, the school day went on normally, with more participants being pulled out gradually. Once the school day was over, the 'victims' were taken to an undisclosed location.
"Before the crash, all participants met in the LGI," England said. "We were then told who was involved in the accident scene, and began preparing for it."
Junior Margaret Leming was one of the drunk drivers in the crash scene.
"Before the scene, the Shattered Lives coordinators told me to act very dramatically," Leming said.
Leming had a very different experience than most of the other participants. After the crash, Leming was taken to a police station, staying in a cell for quite some time. She then was taken into a courthouse and was sentenced to life in prison.
"During all of this, I was not allowed to use my phone," Leming said.
The other participants spent the next day separated from their classmates. They were sent home later that day.
"I think the programs is a really great way to teach teenagers about the dangers of drunk driving," England said. "If I could change anything about it, I would like for the program to be available to more grade levels."