Senior Wins Aveda Institute Catwalk for Water Scholarship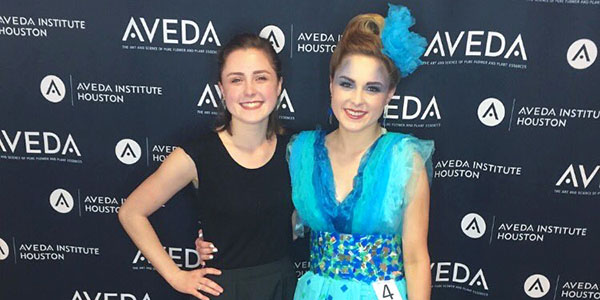 Senior Megan Cejka competed in and won the Aveda Institute's Catwalk for Water Scholarship contest. Cejka won the grand prize of $20,500; a full ride scholarship.
The contest, Catwalk for Water, is one the Aveda Institute holds every year as a fundraiser.
"Preparing for the competition was a bit intense," Cejka said. "First, I had to write an essay about why I care about the world we live in. A few days later, I heard back and learned that I had advanced to the second round, the fashion show."
Once Cejka knew she was going to compete in the fashion show, she only had five days to prepare her work.
"For the fashion show contest, I had to make an entire outfit out of recycled materials and do my model's hair and makeup," Cejka said. "The fashion show itself was really cool. After prepping my model, she walked down the runway, and I presented the outfit and gave an explanation for why I chose the look. I had a great time with it; it felt like Project Runway."
Cejka was already planning to attend the institute after graduating, but hearing that she won the grand prize sealed the deal.
"When they announced my name as the winner, I couldn't believe it," Cejka said. "I just remember hearing my name, then looking at my sister who gave me a giant hug, but everything seemed like it was moving in slow motion. It was a total movie moment."
Cejka will be studying cosmetology at the institute. If you see her in the hallway, congratulate her on this wonderful win.