FCCLA Members Headed to State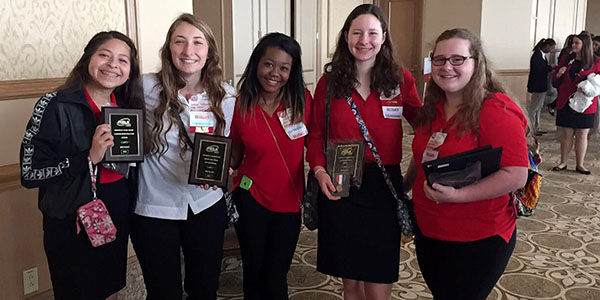 This weekend, FCCLA members will be competing at the state competition. To qualify, members competed in different Family Consumer Science Assessments and Star events at the regional competition. 
"At the competitions, we attend a few sessions led by motivational speakers," senior FCCLA member Sierra Freeze said. "After hearing the speakers, we then compete."
Since September, members attended meetings twice a month to discuss, and work on, their projects.
"First, I had to decide which event I wanted to participate in based on the project I had done," Freeze said.
Freeze won first place in the Teach and Train Occupational event and Gold, the highest ranking, on her FCSA.
"I was standing on stage with my teammate, Callie Crowder, when we won the awards," Freeze said. "We then knew that we beat every school we competed against."
To finalize their projects, Freeze and other members worked countless hours to prepare.
"I worked on my project for about a month," freshman member Sydney Fletcher said. "I had to come up with a lesson plan that teaches how to have a positive outlook on life. I then taught it to my education and training class."
Even though the hours of work are long, the students don't mind them.
"It's fun to be rewarded for working on something that betters oneself," Freeze said. 
Members are now working to prepare for the state convention in Dallas.
"I'm working to improve my score in the Teach and Train event," Fletcher said. "Hopefully I'll advance to nationals."
Wish these students good luck as they compete this weekend.