New Mr. Wildcat Crowned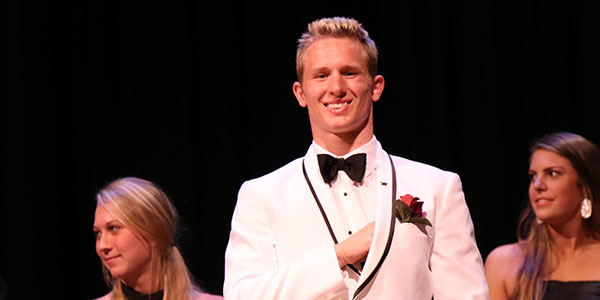 Three Masters of the Ceremony introduce him. A bright spotlight shines upon the contestant as he carefully flips the water bottle. He misses, but then, as if trying to one-up himself, performs a perfect back flip. When he is finished, the fascinated audience excitedly awaits the next riveting act.
On April 1, the Senior Ladies Club hosted the second annual Mr. Wildcat pageant in the auditorium. Senior boys entered for a chance to win a scholarship and the title of Mr. Wildcat. This year, senior class president Nick Tann was crowned Mr. Wildcat.
"I was asked to do the event by a classmate who is a member of Senior Ladies Club," Tann said. "I'd like to thank all of the people who helped me win."
Tann is involved with many organizations around the school including football, swim, track, robotics club, National Honor Society, National Hispanic Honor Society, and Senior Men's Club.
"To be Mr. Wildcat takes having a big personality," Senior Ladies Club Co-Sponsor Janet Stackhouse said.
The boys strutted their stuff during the formal wear section, set the scene of their perfect date, performed a talent, and those who moved onto top five answered interview questions.
Talents ranged from speed-eating lemons to playing classic tunes on the piano. 
"I googled talentless talents and found lemon speed-eating," 2nd runner-up Colton Riddle said. "I sped-ate to an 80's theme."
Not only did contestants prepare a talent, but they also baked or bought cakes to auction off. Audience members bid on the cakes during intermission, and all profits of the night went towards Project Prom.
"We raised about $500 from the cakes, and $2,000 from the whole night for Project Prom," Stackhouse said.
All of the boys who participated did an amazing job and should be given a round of applause if seen around the school.