Junior Takes Responsibility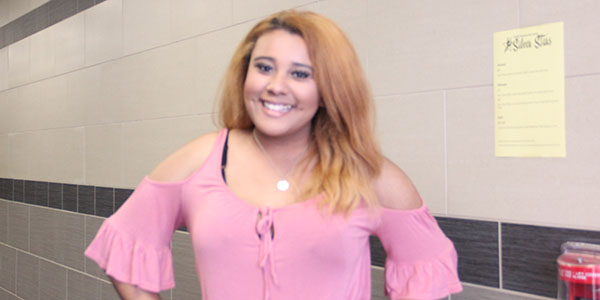 When students transfer from junior high to high school, a greater sense of responsibility falls on their shoulders. Their schedules fill up, and they are expected to be involved in a number of programs, events and groups. Junior Tamara Lutta's schedule is no exception.
Lutta is the choir president, class of 2018's president, female mascot manager, president of Texas Future Music Educators, and voice of the morning announcements.
"I really wanted to become the class president," Lutta said. "I believe it is a job for leaders who want to spread spirit and help others."
Lutta has been the school's female mascot/mascot manager since her freshmen year. She has been involved with choir programs since 2nd grade. Lutta is hoping to become the MC of pep rallies next school year.
"Although I am frequently stressed with all of my activities, I've learned to go with the flow," Lutta said. "An upside to being so involved is that I'm never bored."
Lutta plans to attend college and earn a bachelor's in music education, then continue on to pursue a PhD.
"I would like to become a choir director," Lutta said. "I think I'd be comfortable with that job if I start off slowly."
Lutta has been inspired by many people in her life, such as her parents, choir directors Jed Ragsdale, Jessica Radke, retired director Sherry Miller, and English teacher Tancy Juliano.
"Choir is my favorite part of the school day," Lutta said. "I get to sing and talk with my friends."
Disadvantages of being involved in many activities include difficulties in maintaining good grades and managing to get enough sleep. But, Lutta's other responsibilities are not school-related. She has worked many part-time jobs, including working as a waitress.
"I always make sure to take part in activities I enjoy," Lutta said. "I'm excited for my future as cheer manager and applying to colleges that focus on fine arts."