A Growing Passion for Volunteering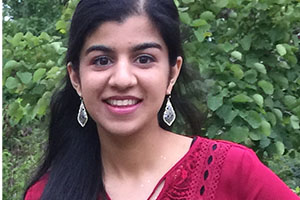 With a passion for helping others inspired by her great grandfather, Key Club president and senior Anika Pal Sharma has given a piece of herself to volunteering.
As president, Sharma has planned and helped with several volunteering opportunities. Sharma has also volunteered through National Honor Society.
"I have volunteered at many local school events, elementary school carnivals, and concessions for school sports," Sharma said.
Sharma has been changed by her experiences, earning over 200 volunteer hours throughout her high school experience.
"I felt fulfilled after volunteering and holding many events successfully," Sharma said. "Volunteering through the school is one of the best things that I have ever done."
Though Sharma has always been a focused and diligent individual, her work ethic has grown since she began volunteering.
Seeing her impact on the school and community has resulted in Sharma becoming more responsible and passionate about her work than ever before.
"I always give 110% to all my endeavors and make sure that I am prompt with everything," Sharma said.  
Sharma has learned that working together towards a common goal ensures success for teams.
"I am willing to listen to other people's ideas, and am not afraid to voice my own opinions as well," Sharma said.
In addition to being able to work as a team, Sharma believes it is just as necessary to be able to take control of a situation and handle the task at hand.
Being goal-oriented, organized, accountable, responsible and timely are just a few of the traits she has applied while serving as president.
"Volunteering has played a huge role in my character and has strengthened qualities of mine," Sharma said.
The satisfaction and praise she receives from the other volunteer organizers, students, and children are memorable and gratifying.   
"Numerous times, students and volunteer coordinators have expressed to me how they couldn't have held certain events successfully without my help," Sharma said.
Sharma has earned her service cord for graduation, but her volunteering journey is far from over. For her, it was never just about the hours, but about how much she loved it.
"I really enjoy giving back to my school and community," Sharma said. "Volunteering is my true passion."