Cheer Hosts Upcoming Color Dash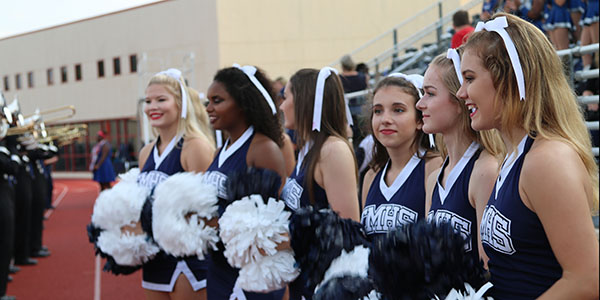 Color Dash is a fundraiser hosted by the cheerleaders. The dash is a 5K run around the school while colored powder is thrown around.
The color dash is on Friday April 21. Gates open at 5:30, with the family run starting at 6:15 and the 5K starting at 6:30.
"It's always a good time to see students enjoying themselves," freshman Jourdan Williams said.
Anyone is welcome to participate in the run, and spectators can watch from the sidelines.
"If a parent doesn't want to run, they're encouraged to come anyway to support their child," Williams said.
The cost to enter the run is $20 online and $30 at the gate. T-shirts will be handed out to those who have registered online.
"I really love the shirts this year, so if you want a cool t-shirt, make sure to register online," Williams said.
Pets are not allowed to participate in the run.
"Don't run with a pet because the colored powder can get into their eyes and become overwhelming," Williams said.
The runs aren't timed, although there will be medals for the first few finalists.
"It's not important to be first place," Williams said. "The run is meant to be something fun to raise money for our cheer squad."
If the run is canceled due to bad weather, it will be rescheduled for next Friday, April 28.
The goal of the fundraiser is to raise money for the cheer booster club. All cheerleaders are working the color run.
"Cheerleaders will set up the colored powder stations, cheer on the runners, and clean up the mess after the run is over," junior Megan Lix said.
Come and support your cheer booster club by running in the Color Dash this Friday.
"Be there or be clean," Williams said.
The website to register is: http://tmhscheer.com/fundraisers/