Jumping Her Way to College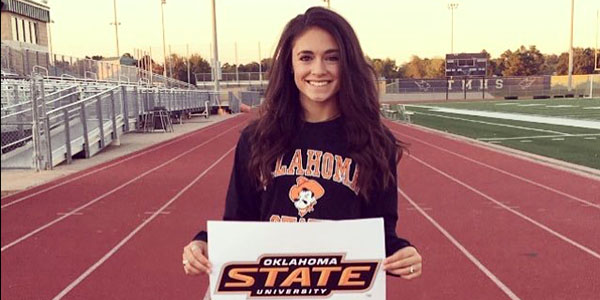 Senior Ryan Roane has been awarded a scholarship from Oklahoma State University for long and triple jump.
Roane has been competing in long jump since 7th grade, and has been practicing over the years to accomplish this achievement.
"I have worked very hard for this scholarship," Roane said. "I was so excited and relieved when I got the call."
Roane started realizing how much she liked long jump during the summer of her 8th grade year.
"During the summer of my 8th grade year, I realized I was passionate about long jump," Roane said. "I noticed that I was good at it."
Track coach Sydney Lynch sees Roane as asset and inspiration to the team.
"She's a leader with great work ethic," Lynch said. "She is always working her hardest and does her best every time."
Roane's teammates view Roane as a leader.
"Ryan is a good friend and is really supportive," Rylie Carroll said. "I look up to her."
Roane plans on competing in long and triple jump throughout her college years.
"I really like long jump and am so happy that I received the scholarship," Roane said.
Roane's teammates and coaches are glad she has spent her high school years on the team.
"Ryan is really good at what she does," Lynch said. "During every meet she always scores points."
At Oklahoma State, Roane plans to study criminal justice and continue track.
"I know we will all miss Ryan when she is gone," Carroll said.