Twins Take on Rice University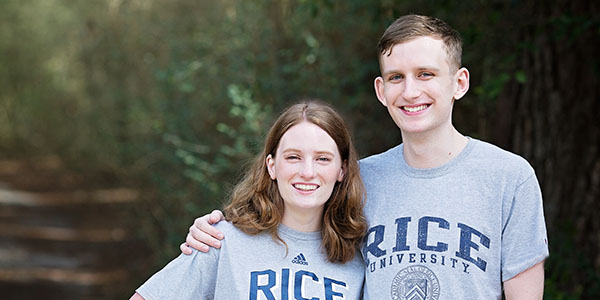 Seniors Emmett and Alaina Bertram have both been accepted into Rice University's class of 2021. The twins applied for Early Decision, meaning their acceptance was binding. Emmett will be studying computer science and Alaina will be studying genetics.
"I'm looking forward to going to college with my sister," Emmett said. "It'll be nice to have someone I know there while making new friends."
Emmett became interested in computer science while taking an AP computer science course.
"During the course, I realized that I really enjoyed coding," Emmett said. "I will be taking basic intro to engineering classes before choosing my major, but as of right now I'm really interested in computer science."
Getting into Rice University is not a simple feat. The twins worked rigorously throughout their high school years, making sacrifices to achieve their academic and extracurricular goals.
"To get into Rice, I had to work hard and stay determined," Emmett said. "Procrastination is your worst enemy; I had to learn to push past it and stay motivated."
Once attending Rice, Emmett hopes to join organizations such as the campus space organization Eclipse.
"Eclipse is a school funded program that is working to send a rocket into space," Emmett said. "Students that have participated in that club are now working for Space X, NASA, and the Air Force."
The twins knew they wanted to attend Rice upon walking onto the campus.
"Stepping onto campus just felt right," Emmett said. "To those who are thinking about Rice; visiting the campus will let you know if you want to attend the school or not. When I visited, I knew that it was the right university for me."