Freshman Fundraises for Children in Africa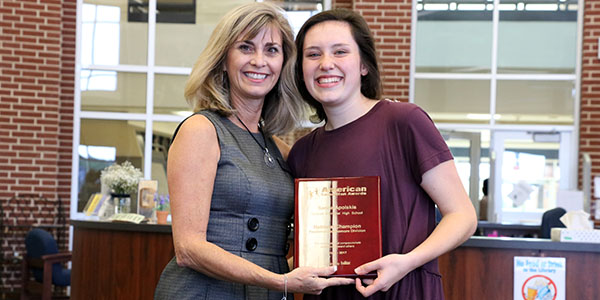 Two children in Uganda will sleep in a warm, soft bed tonight.
Two children in Uganda will silence their grumbling stomachs.
Two children in Uganda won't be living in uncertainty today.
Freshman Sanna Apolskis raised over a thousand dollars for Children of Grace in recent months, a non-profit organization devoted to providing children in Uganda with basic needs.
Apolskis's Grandmother, Mary Ann McCoy, established the foundation during 2001 in remembrance of her late friend Grace Talitwala. McCoy met Talitwala while in Uganda with her church group and the two quickly formed a close relationship. Unfortunately, McCoy had to leave her dear friend who was struggling with the AIDS to return to the United States.
Sadly, Talitwala lost her battle with AIDS soon after, leaving behind three children. With Talitwala's memory in her heart,  McCoy made it her mission to improve the tough lives of Ugandan children as Talitwala would have wanted. Over the years, McCoy has created a team of active members, including her granddaughter.
"I want to visit Uganda with my grandma next summer, but I don't want to go empty-handed when there is so much I can do to help Children of Grace," Apolskis said.
Apolskis brainstormed efficient fundraising ideas until she decided to create a gender neutral shirt anyone can wear. She contacted a professional designer from fundthenations.org, where her ideas were transformed into a reality.
"When I see people wearing the shirts, it makes me feel awesome because I'm proud of what I've contributed. It overall just blows my mind that so many people are willing to support the cause," Apolskis said.
The revenue Apolskis received insures the shelter, clothing, food, and medical examination costs for two children apart of the program throughout the next twelve months. The remainder of the money was forwarded to Children of Grace as a whole.
Apolskis hopes to continue working efficiently alongside McCoy and other affiliates with future projects.
If you aspire to be a part of this change, you can visit childrenofgrace.org. Once there, you can sponsor a Ugandan child and become aware of upcoming events to participate in.
"I live my life like there is no tomorrow, while the children of Uganda really might not have tomorrow," Apolskis said. "The issue is constantly worsening for them. I want the kids to enjoy life, not endure it."