Prom King and Queen Crowned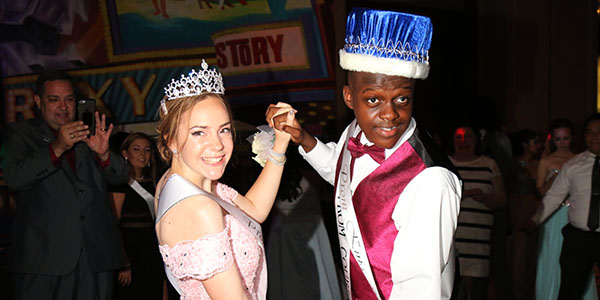 Class of 2017 crowned seniors Daniel Smith and Alanna Ford as Prom King and Queen.  The two were nominated and ran against eight other classmates for the title. 
"When I heard my name, I thought 'oh my gosh, this just happened'," Ford said. "After that, my mind went blank for a second. It was a really cool moment."
Ford was not expecting to be nominated and did not campaign to win.
"Two of my friends came up to me asking if I wanted to be nominated for queen, but I told them no," Ford said. "I was afraid that if I won, my dance with the king would be awkward. Still, I was honored when I saw I was nominated."
On the other hand, the Prom King was very excited by his nomination and wanted to be elected.
"I heard Daniel talking about how excited he was to be nominated and how badly he wanted to win Prom King, so I'm really glad he won," junior Aimee Rast said.
Both Smith and Ford were not expecting to win. Instead, they went to prom with the mentality of having fun no matter the outcome of the Prom Court election.  
"When I was nominated, I wasn't sure I was going to win," Smith said. "Winning or losing didn't matter to me at the dance; all I wanted was to have a good time."
Nevertheless, Smith was excited about his win, unaware that the majority of students would vote for him as Prom King.
"I couldn't believe that I won," Smith said. "I was expecting Charles Henderson or Tanner Stegall to win; I guess I'm more popular than I think."
Both nominees feel that winning Prom Court was a great way to finish their senior year. They're very honored that they got this opportunity.
"It was like the toppings you put on the icing of a cake," Ford said. "It was cool to end my senior year with something like this."