Freshman Awarded Balfour American Samaritan Award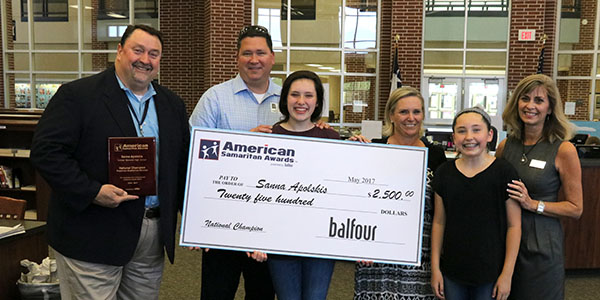 Freshman journalism student Sanna Apolskis was awarded Balfour's American Samaritan Award. Apolskis entered Balfour's competition by recommendation of journalism teacher Jill Chumley. Students sent in videos talking about differences they have made in communities. Apolskis received a plaque and a check of $2500.
Apolskis' video was about her work with the Children of Grace foundation started by her grandmother – click here to read the story about Children of Grace. Apolskis sold t-shirts at the beginning of the school year to raise funds to provide for two children in an Ugandan village. Apolskis' story wowed Balfour, leading to her win in the nationwide contest.
"I am so proud of Sanna," Chumley said. "I knew about her work with Children of Grace and thought she would be a perfect fit for the competition. She's a wonderful journalism student and will be working on the yearbook next year."
Chumley, counselors, assistant principal David Unruh, and Apolskis' family surprised Apolskis in the library to award her. Apolskis had no idea of her win and was extremely delighted.
"It's wonderful seeing Sanna surprised," Apolskis' grandmother Roxanne Apolskis said. "It's not often you see a surprised look on her face. We're very proud of her."
Balfour representative Mary Beth McIver awarded Apolskis with the award.
"With this year being the first year of the competition, I'd like to see it take off in the future," McIver said. "Hopefully it will involve more and more students with journalism."
About the Writer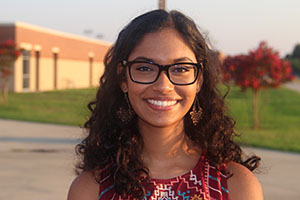 Khushi Ramlogun, Online Editor-in-Chief
Hi! My name is Khushi Ramlogun and I'm a senior. I'm so excited to be serving as an editor for the paper this year! I hope our staff publishes great stories...