Living Between Two Worlds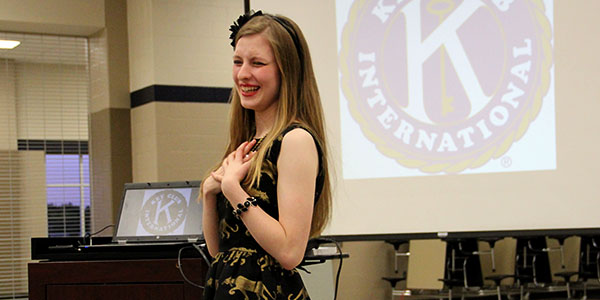 Two cultures have shaped sophomore Elizabeth Schmitz's entire life and identity:  German and American.  Born to an American mother and a German father here in Texas, Schmitz's first language was actually German.
"You almost live this secret life that none of your friends know about, no matter which side they are from," Schmitz said.  "You learn that you can view life through a million different perspectives but still be yourself in the end."
Schmitz's family hails from the small village of Saarwellingen, in the southwestern German state of Saarland.  Many of her family members and friends still live there today, where they have a house that has been in the family since the 1700s.
"I just feel inexplicably at home there," Schmitz said.  "I feel most connected with the German side of my family.  I look just like my great-grandmother Antonia, and according to my Opa, I have her personality, too."
In Tomball, Schmitz has just as many, if not more, ties to the school and community, ranging from playing violin in Chamber and Symphony Orchestra to participating in Mu Alpha Theta and German Club.  The sophomore is already vice president of two other clubs:  Key Club and Writer's Club.
"There are some phenomenal people I've met along the way," Schmitz said.  "You never stop learning from them.  I owe everything to my teachers, directors, and fellow students for inspiring me to learn more and more."
Parents Christoph and Mary Beth Schmitz try to take their children to Germany every summer, to stay connected with their family overseas.  Sometimes, cousins or good friends visit them in Texas.
"It is a bit complicated maintaining dual citizenship, and this comes with obligations," Mr. and Mrs. Schmitz said.  "It is an interesting experience to feel at home on two continents.  The many boxes of Belgian chocolates in our suitcases sure do help."
The most difficult thing about keeping up with their German friends would be the seven-hour time difference.  When the school day here begins, all of Schmitz's friends in Saarwellingen have been let out;  when it ends here, most people in Germany are already asleep.
"The latest I can call someone is about four p.m.," Schmitz said.  "You have to be diligent about how you communicate with your people, either via Skype or Whatsapp.  Distance will never, ever strain love.  It only proves the immense power of love and how it spans borders."
Last summer, Schmitz's best friend, Leah, visited the United States for the first time;  later this year, her aunt and uncle brought their young children with them to experience Texas culture.
"Leah was thrilled at what a different world we live in here," Schmitz said.  "She especially liked Chick-fil-a and the large SUVs.  Cars tend to be smaller in Europe, so it's even the little things that are exciting when you go across the pond."
For friends here, the Schmitzes often bring back chocolates or other small goods unavailable or different in the U.S.  
"I love Kinder chocolate," freshman Abby Cascarelli said.  "We don't have anything like it here.  Elizabeth is so sweet to bring it back for my family."
In the future, Schmitz hopes to live in her family home in Saarwellingen and teach molecular biology at a nearby university.  Although being half-German, half-American sets Schmitz apart from other students and brings with it difficulties of its own, it has allowed her to better identify with people as a whole.
"I always tell people it's like being half-mermaid and half-human; you keep one leg in the sea and one on land," Schmitz said.  "You learn just how much your way of life is not at all like another person's, and that is fascinating. Even though people may appear to live on separate ends of the spectrum, we are all human beings, no matter how different or similar our cultures."