Literary Magazine Hits the Press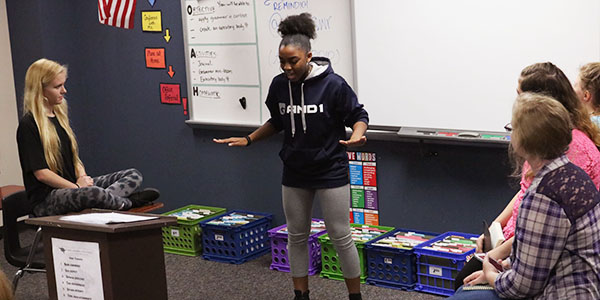 Writer's Club's will release their annual literary magazine, The Blueprint, featuring the writing and artwork of many students.
"I'm super excited to release the magazine," Writer's Club vice president Elizabeth Schmitz said. "There are a lot of wonderful submissions."
Orders must be placed by Friday, May 18 to receive one. To order, one must pick up a form from English teacher Laura Smith's room and pay $14, or $12 if one's work is featured in the magazine.
Writer's Club ordinarily meets every other Wednesday to eat snacks while members read aloud from pieces addressing their weekly theme. The faces in each meeting change every time, but the mood is always the same.  All students are encouraged to attend.
"Our group is very cool and diverse," Writer's Club president Elizabeth Venier said. "We have people in band, in sports; we have people showing up whenever they feel like it. We're very open like that."
Members are not required to write a piece to attend meetings, and many share other types of art, including spoken word pieces, poetry and songs.
"Can I just say that we have the most talented club on campus?" Smith said. "We are not just one-trick ponies. We are five-trick ponies."
Earlier in the semester, Writer's Club organized a book drive to benefit the Houston Area Women's Center.
"Everyone knows someone who's been a victim of domestic violence, so everyone had their foot in that door somehow," Venier said. "It was just a way to help out."
Writer's Club put out over fifteen boxes in different English classrooms to collect books after gaining approval from principal Chad Smith and the English department.
"Many seniors brought in all their old books, because they won't need them when they go off to college," Venier said. "A lot of people took part."
Writer's Club also participates in national contests, such as the Scholastic Art & Writing Awards, with famous alumni including writers such as Truman Capote and Stephen King. Freshman and Writer's Club historian Chloe Carter competed against every freshman in Harris County, and her short story won the Silver Key, or second place, in her grade level.
"I want to eventually get a Gold Key and go on to win an award at Nationals," Carter said.
Writers' Club itself inspires some of its members' occupational aspirations. Carter hopes to one day become a professional author herself.
"I would like to write, but writers don't make a lot of money," Carter said. "It may be something I do on the side after I get a more serious job."
Before any works from Wildcats reach major publishing houses, though, the Writer's Club offers any student wanting to publish their writings or artwork a page in The Blueprint.
"We have been collecting pieces now, but we'll have to make some edits and do some formatting," Venier said. "Whatever anyone needs, we can help them with. We are a very supportive little family."