Changing the world, one diabetes walk at a time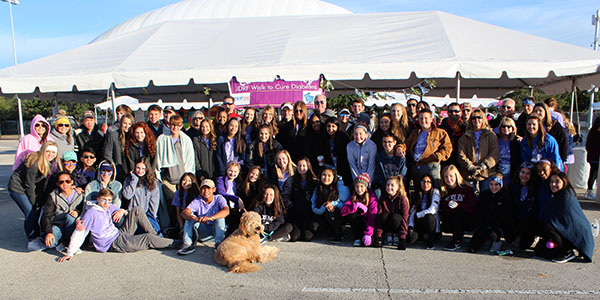 As she walks through the streets with friends and family who support finding a cure for type one diabetes, she smiles, realizing that each person is making a difference in the long search.
Junior Courtney Smith is hosting a movie night on Saturday, September 29 as well as a walk for diabetes on Saturday, November 3 to help support the cause "Cure for Courtney."
"My goal every year is to educate more people about what type one diabetes is," Smith said. "When I was diagnosed with it, I had no knowledge at all of the disease, and I hope that with my efforts, there are just a few less people out there who are uneducated about it."
Incredibles 2 will be shown at the movie night, where Smith hopes to see around 150 people show up. Anyone and everyone is welcome.
"I love the movie night because all of the people and chaos," Smith said. "It's very heart-warming seeing kids from school come out and support my cause."
Regarding the walk for diabetes, Smith hosted seven diabetes walks in the past, and this year will be her eighth.
"The walk for diabetes is wild, especially since everyone got to my house before 6:30am," Smith said. "We all carpooled down to NRG. Last year, we had 9 car loads of just students from TMHS."
Before the walk begins, Smith's team has a tent where they can socialize, drink orange juice, and eat donuts. Most people take pictures with their friends and talk with each other. The actual walk lasts for about an hour, and after walking the 5k, there are games, a petting zoo, live music, face painting, and food.
"I will be releasing the theme for the walk of September 26th, and I am so excited about it," Smith said.
Smith will also be partnering with HOSA for the first time. Last year, she partnered with Key Club and hopes to do it again.
"Partnering with HOSA is great, and their officers are very smart and great planners," Smith said. "I am really excited to get even more people from TMHS involved in my fundraising activities."
The HOSA officers are also excited about partnering with Courtney.
"Being able to help Courtney out on her 'cure for courtney' is super fun," senior and HOSA officer Morgan Cocker said. "I wasn't friends with her at first, but once I talked to her about all of the amazing things she does for the cure, it made me realize how passionate she is. We've become friends and I'm so glad."
Senior and HOSA officer Arianale Torres wants to support Smith as well by participating in the diabetes walk and encouraging others to do the same.
"I believe that being a part of the 'cure for diabetes' walk will give our members the opportunity to not only broaden their understanding on what diabetes is, but it will also give them the opportunity to be a part of finding a solution to one of the most common illnesses in America," Torres said.
A shirt design for "Cure for Courtney" is also in the making.
"Regarding the t-shirt design, it will be on the cureforcourtney Instagram on 9/16, and  until then it's a secret," Smith said."Very few people have seen what is looks like."
Smith is excited about the upcoming events and is grateful to all who have helped her along the way.
"I hope people learn things about diabetes and realize that the smallest amount of money or time really does make a difference," Smith said."I think people think they are just buying a cute shirt and going to some social event with their friends, but it is so much more than that."