Register to vote before Oct. 9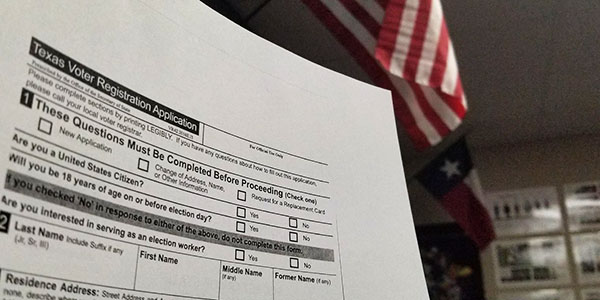 With midterm elections taking place on Tuesday, Nov. 6, registering to vote is important for those turning 18 years old before or by election day. The registration cutoff is Tuesday, Oct. 9, after which potential voters will be ineligible to cast a ballot in the upcoming vote.
The following requirements must be met in order to register, as according to VoteTexas:
Hold U.S. citizenship
Live within the U.S. upon applying for citizenship
Not a convicted felon
Be 18 years old on election day, or 17 years and 10 months
Government teacher Jennifer Conroy has voter registration forms for those interested, and mailing them in is free of charge. Registration forms are also available for print at https://www.votetexas.gov/register-to-vote/. Forms should be mailed 30 days before Nov. 6.
If voting in person at a polling station, an ID must be presented along with a voter registration card. Acceptable IDs include:
Texas driver's license
U.S. passport
U.S. citizenship certificate (with photo)
Texas personal ID card
Texas Election ID Card
U.S. Military ID card
The photo ID may be expired "no more than four years."
For those recently turned 18 and looking to renew their driver's license, Texas grants a 60-day 'grace period' wherein drivers have 60 days to go to a DMV center and obtain a new license. For more information, visit https://www.dps.texas.gov/DriverLicense/renewal.htm.