Fighting off acute mononucleosis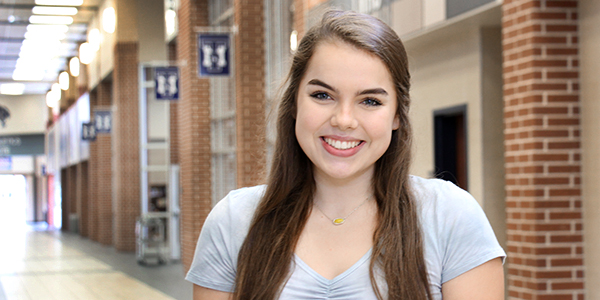 As she lays in bed, unable to get up, she smiles at text messages from friends and family, helping her recover each step of the way. Junior Mary Ellen Pratt came down with an illness called microplasmic pneumonia, and now has acute mononucleosis – which doctors said she will carry for the next four months.
"The doctors originally had trouble figuring out what exactly was wrong with me," Pratt said. "At first, they thought it was a kidney infection, but then it became microplasmic pneumonia. Now, they say it's acute mononucleosis."
The whole process brought a lot of pain to Pratt, and she became very uncomfortable for weeks. She had a 101-degree fever for 11 days straight and could not even walk.
"When I was sick, I felt extremely weak and couldn't do anything," Pratt said. "I was constantly sleeping, and it felt like I had no control over my own body."
Due to Pratt's illness, she didn't feel like eating and was never very hungry for a few weeks.
"I lost a lot of weight very quickly," Pratt said. "I had to force myself to eat, which was such an uncomfortable experience. My mom would try to force me to eat stuff, and I would get mad at her."
Pratt visited the doctor a total of six times while she was sick. She went to the Methodist Hospital to get treated, then was directed to go to an infectious disease specialist. As of now, Pratt is trying her best to recover as quickly as possible.
"The major symptoms have gone away for the most part, but I still get extremely tired from being at school," Pratt said. "The recovery process can last up to six months."
Pratt dances with the Silver Stars for the school. However, she can't dance for now. Also, after spending three weeks laying down, being vertical was a challenging adjustment Pratt had to make.
"My stamina for simple things such as walking up the stairs is much lower than it used to be," Pratt said. "However, I'm hoping I can start dancing again in a few weeks from now."
Although Pratt remains unsure as to just what caused her illness, her goal was to try her best to get healthier again.
"To help get better, I drank smoothies, which were literally the only thing I could eat," Pratt said. "My parents would make me get up and go on a walk around my street in order for me to get some fresh air."
As far as missing school, Pratt tried to stay on top of her school work as best as she could. Her mom went to the school to pick up her assignments, and Pratt regularly emailed with her teachers in order to figure out what was going on in each subject.
"It was pretty overwhelming balancing school and health, but I managed to overcome it," Pratt said.
Her family worried over her health, but they also became such a help and support system throughout the entire process.
"My family catered to me; whenever my spirits were low, they helped to cheer on me a lot by texting me," Pratt said.
Not only did the receive support from her family, but her friends also played a role in her recovery.
"I took Mary Ellen flowers because she was sick over her birthday weekend," junior Sanna Apolskis said. "I was so excited to see her again after missing her for a week in class."
Her classmates in yearbook made a giant birthday card for Pratt, with each student signing her a message.
"I was so surprised when I got the card," Pratt said. "I taped the card on my door, so that I see it everyday."
Junior Kaitlyn Nguyen decorated the card with calligraphy, flowers, and other drawings.
"Mary Ellen makes us all so happy, so we just wanted to do something to help make her day better," Nguyen said.
Pratt became extremely thankful for the support she received while dealing with her illness. 
"Coming back to school and seeing all my friends again was such a good feeling," Pratt said. "I never thought I could miss going to school so much, but surprisingly enough, I did."