Best Buddies pair off, promote positivity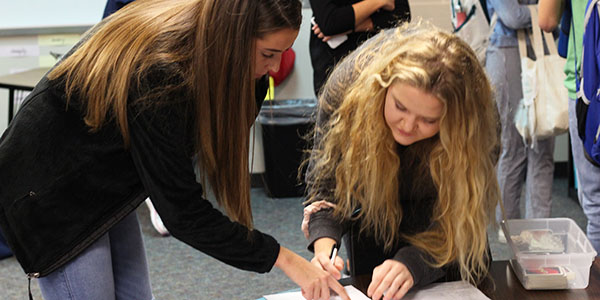 To better integrate students and promote general inclusion, Best Buddies matched 20 general education students with PALS students in the school's first annual peer match program.
"Even though it's only been a few months, our buddies down in the PALS room are so happy," club advisor Haley Agriesti said. "We have a bunch of freshman who can walk outside of that classroom and have a group of students that know who they are."
Pairing buddies took place over several weeks, with students filling out an application, undergoing an interview, and obtaining teacher recommendations. Once pairs were selected, students were notified during an evening match party.
"I did most of the interviews, my chapter president did some of them with me, and then it was just a matter of looking at the different interests and seeing who went with who," Agriesti said.
Peer buddies are general education students matched one-on-one with a PALS student. They are responsible for communicating with their buddy weekly, attending socials, and having at least one other monthly outing, though students engage in extra activities as well.
"They've done a lot of stuff on their own time that is not facilitated by us," Agriesti said. "That's them reaching out to those kids and really bringing them into their friend circle."
So far, members have gone bowling, gotten ice cream, and gone to the movies, helping to build friendships within the matched pairs.
"My friend circle knows my buddy, and they all say hi to him, and people that are friends with them will say 'hi' too," club president and junior Emma Lancaster said. "It's spreading like a good plague."
Since the program began, even students who aren't matched as peer buddies have increased interactions with PALS students.
"I see people who aren't even in the club branching out more than they used to, just because they see other kids doing that," Lancaster said. "They're knowing it's okay to talk to them."
Buddies themselves have undergone positive changes following the introduction of peer matches.
"One buddy was really quiet, but since we've done the pairs, in class he's so outgoing," Lancaster said. "Random people will just say 'hi' to him now because they know him through his buddy."
Those who chose not to become peer buddies are considered associate members. While not directly matched with a student, they are still able to connect with PALS students.
"Even as an associate member, I feel like I have personal connections with some of the buddies," sophomore Lauren DeSplinter said. "If you're not paired, you can still have that kind of experience."
Ideas for Best Buddies began last school year, but the club began matching students this year. Throughout, encouraging tolerance remains a central focus.
"Our goal for the club is to integrate the PALS kids into the general education population," DeSplinter said.
As the year continues, the club is hoping to continue promoting inclusion within the school.
"I'm hoping that more kids want to get involved even if they're not necessarily in the club, so that they're part of that message for our school," Agriesti said. "Then we can have a community at Tomball Memorial where every kid who walks into this building feels safe."