Senior returns to State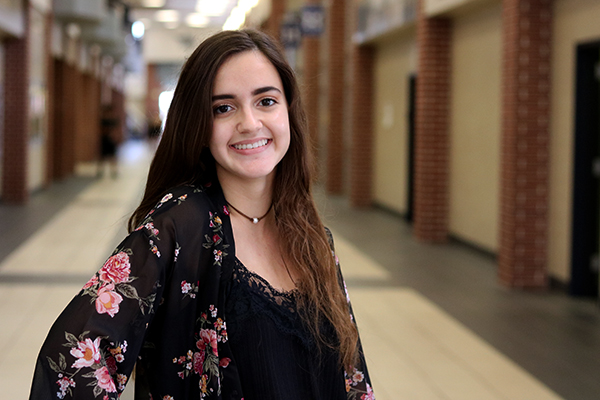 Alanna Craige won 5th place in Feature Writing at the UIL State Journalism Competition.
Running in the rain through an unfamiliar campus, decorated with bags like a Christmas tree, the girl worried if she would make it in time or get disqualified.
Achieving many great accomplishments in the journalism department, senior Alanna Craige is editor-in-chief for the newspaper and has qualified for State twice, once her junior year and once senior year.
"I've always liked being in newspaper and it has really helped me become a better and more creative writer," Alanna said. "Newspaper has helped me give other people a voice that otherwise would be unheard."
Competing in journalism takes lots of practice, motivation and determination, but for Alanna, it also takes a good night's sleep and a gluten-free snack or two.
"I usually just practice during class time," Alanna said. "Other than that, I go in the room and do my thing."
Getting to State is not a small feat. First, one must place at invitationals to be considered for competing at Regionals. Then when competing at regionals, one must place in the top three in order to advance to State, Alanna placed first in News Writing and second in Feature Writing.
"She's a very talented writer and she works hard," junior Isabelle Keever said. "When she applies herself, it can take her to great places."
Alanna's parents, immigrants from Hungary and Canada, encourage her  with everything she does and inspires her to do her best.
"Alanna is very smart and is willing to put in the work necessary to succeed," Mrs. Craige said. "Truly, she is lucky that most subjects come easy for her."
Next year, Alanna will attend university in Ireland at Trinity College Dublin, majoring in European Studies.
"I got in through a double-degree program," Alanna said. "I'll spend the first two years in Dublin and then attend Columbia University for two years."
Having three citizenships, from Hungary, Canada, and America, means Alanna has already visited 17 countries, mostly in Europe.
"Hungary is a very special place to me, because it's where I feel at home and where my heart is happiest," Alanna said. "Walking the streets where my country's history was made is a feeling that I can't get anywhere else."