Garden Club helps TMHS go green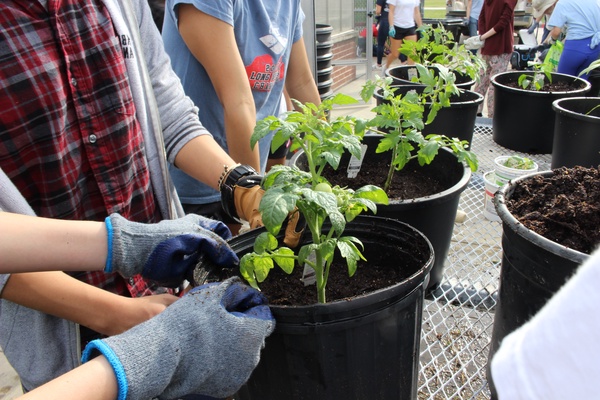 Community, environmental awareness, and, of course, dirt. These are the three unlikely ingredients of the unique organization that is Garden Club. Biology teacher Cristina Monroe and a group of her students established Garden Club in March, and what started as a classroom daydream quickly grew into a blossoming organization.
"We literally just started this club last year, second semester," Garden Club vice president Piper Lopez said.
It all began in Monroe's third period biology class, where a few students suggested the idea of establishing a garden. 
"We were in our plant unit and someone said, 'Why don't we start a garden for the school?'" Monroe said.
Monroe liked the concept, but it wasn't until her students posted a makeshift Garden Club sign up sheet in her classroom that she realized the idea's potential. 
"I was absent one day, and I came back and my goggle cabinet had a sheet that said 'Garden Club'," Monroe said. "It was filling up more and more with names and adding more papers."
As excitement for the notion of a gardening club grew, Monroe went to former principal Chad Smith to inquire about using the greenhouse. 
"I told Mr. Smith, 'We would use it,'" Monroe said. "My kids want to start a garden."
Smith told her the school was planning on tearing the greenhouse down, but after Monroe explained her students' idea, he agreed to hold off on its removal. He gave her the keys to unlock not only the greenhouse, but the future of a club that was quickly becoming a reality.
"I submitted the papers, and just like that, we were a club," Monroe said.
A couple weeks of preparation and a large amount of seed packets later, the TMHS Garden Club was in full bloom. Three "Grow Days"- weekend club meets- took the greenhouse from an abandoned shed overrun by weeds to an organized facility filled with young plants and seeds. Soon, a variety of plants ranging from tomatoes and radishes to carrots and peppers flourished as a result of the club's daily watering schedule. Even a Best Buddies social was arranged, allowing Garden Club to reach out to other members of the school community. 
"It was super successful," Garden Club historian Sara Kate Richard said of the Grow Days. "Everyone really came together."
This year, the future of Garden Club is somewhat uncertain, as the greenhouse was taken down to make way for construction that will soon begin on campus. Despite this setback, Garden Club officers are determined to keep moving forward with the club. 
"We don't have a greenhouse this year, but that doesn't mean we're not a club. We're still going to be active," Richard said at the club's first meeting on Friday, August 30th, during which they discussed plans for the future. "One of the projects we really want to start is recycling."
Other ideas include "pot planting"- which would involve club members meeting at school to plant seeds in pots and then bringing them home to grow- and starting a program to mentor local elementary school students in the ways of gardening.
"Togetherness, friendship, community," Garden Club president Logan Williams said, describing what Garden Club is all about.
The Garden Club officers are excited to continue spreading awareness for the environment and sharing their gardening skills with new members, with help from their second sponsor Mr. David Kropp. They hope to someday grow enough vegetables to donate to local food pantries.
Part of Garden Club's future may be unclear, but one thing's for sure- whatever happens, they will continue to plant seeds of togetherness, friendship, and community wherever they can.