Homecoming court revealed
Ore James, Online Editor-in-Chief
September 23, 2019
During an impromptu homecoming pep rally, scheduled after the cancellation of the Rock the Block parade, the majority of the homecoming court was crowned.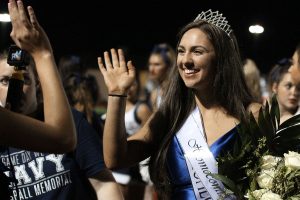 Freshmen Ella Kelm and Erik Hanchi, sophomores Julia Fletcher and Brayson Camarillo, juniors Braden Barrett and Katelyn Collins, and senior Luke Sebesta all made the court, with the senior homecoming queen announced later that night.
The late announcement of homecoming queen, a school tradition, prompted nerves in several candidates.
"The day of the pep rally, even though I knew I wasn't going to get called yet, my heart was pumping," senior and homecoming queen Halli Landry said. "When the night came I was shaking with nerves but beyond excited and felt extremely blessed to be in the position I was."
At halftime, Landry earned the title of homecoming queen.
"When they called my name to say I won I didn't even know how to react, I was overcome with emotions and so beyond thankful to everyone who had voted for me and Luke," Landry said. "It felt amazing to be out on the field and hear your name. I couldn't ask for anything more that night."
Among students, much speculation arose concerning who would win each title. Freshman Erik Hanchi, however, had no doubts on his place on the court, as he was unopposed for the title of freshman duke.