Senior finishes last walk for diabetes
Shivering in the cold, senior Courtney Smith goes from guest to guest with a smile across her face despite the large grey sky and the looming dangers of Type-1 Diabetes, present in her life since childhood.
October 26 marked the last Cure for Courtney walk, a diabetes awareness and fundraising event that has been a large part of student lives for the past nine years.
"It's really all about spreading information and knowledge," senior Daley Craft said. "Most importantly though, it's about supporting Courtney."
Smith was diagnosed with diabetes in June of 2011 and the hospital staff immediately suggested that she get involved with the Juvenile Diabetes Research Foundation (JDRF).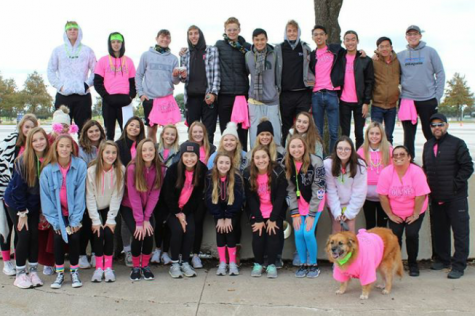 "That October, my parents signed me up for the walk, organized a team, and sold t-shirts," Smith said. "I was only about 9 years old so it was my parents that really started it all."
JDRF goes beyond its annual walks. Smith has also attended several JDRF conventions and has been an ambassador for the Houston Gala in April for the past four years.
"We're the face of what JDRF stands for," Smith said. "We thank everybody, present awards and overall just show the donors what their money is going toward."
The annual Cure for Courtney movie night, which accompanies the walk as an additional fundraising event, was held on September 28, during which seniors were able to bond and reminisce with High School Musical 3: Senior Year while simultaneously raising thousands for JDRF.
"A lot of the seniors were kids that have been coming to this for the past four years and it was really important in our lives," Smith said. "It was unique to Cure for Courtney instead of JDRF as a whole."
Scheduling conflicts with the ACT test hindered participation in this year's walk but allowed Smith to connect with her attendees and relax the planning.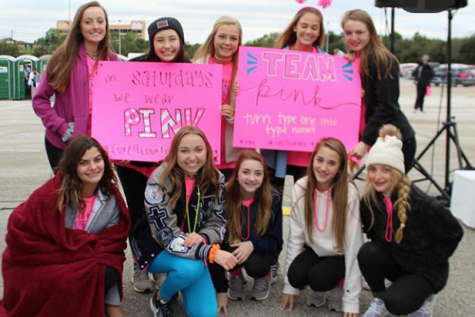 "Everyone was really into it," Craft said. "Kind of like the last hurrah."
The last walk was emotional for the Smith family, but Smith plans on participating in diabetes awareness in different ways in the future.
"It's sad because I'll never have the same experiences with my team as I've had in the past nine years but going forward, I still want to help organize the walk," Smith said. "It's not something I'm just going to forget about."
Students and friends that have participated for years also felt the emotions of the final year.
"I've been a part of this since the seventh grade," junior Megan Ramos said. "It's almost like graduating from something, it's weird once you're done with it especially because of the friends you make along the way."
With college as an influential factor in her future, Smith won't be hosting movie nights or having a team for the walk in the coming years, but she plans to continue selling t-shirts and getting involved in the policies behind diabetes in America.
"I'm majoring in Political Science so I want to delve into the issues of surging insulin prices," Smith said. "It's something I'm really passionate about so I really want to focus on that as I get older."
Others also see importance in Smith continuing the initiative in the future.
"It's really important that she's spreading awareness and raising money," Ramos said. "Although in the past few years it's been 'Cure for Courtney', it's really for everyone going through Type 1 diabetes."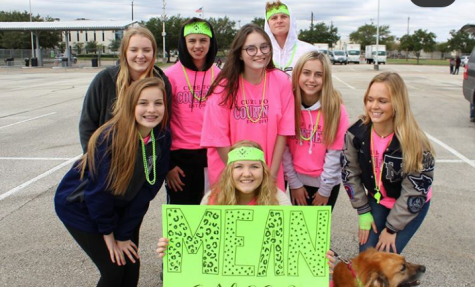 Smith's family is heavily involved with the foundation as well. Her parents have helped organize walks in Houston and the Woodlands for several years.
"JDRF is a huge part of my life and my family's life," Smith said. "I've met so many passionate people through this and it's meant a lot to me."
Smith's parents and grandparents helped spread the word on social media and take care of the transportation and food while her group of friends, dubbed "The Blue-Dot Crew," helped run the movie nights and lead the walks.
"My friends are basically the ambassadors of the Cure for Courtney team," Smith said. "I don't force them to do this, they all help voluntary because they're so passionate about it that you would think they had diabetes too."
Smith's friend group volunteered annually to split into teams and take care of posters, food at movie nights, ticket sales and flooding Instagram with promotional posts.
"I can't thank them enough for all that they've done," Smith said. "They all use their skills to make everything successful and it's just an awesome thing to see."
As Smith's closest confidants, Cure for Courtney events have become a large, sentimental part of student lives.
"Courtney is one of my best friends so whatever is important to her is important to me," Ramos said. "After seeing firsthand the effect diabetes had on her, I saw this as the best way to support her."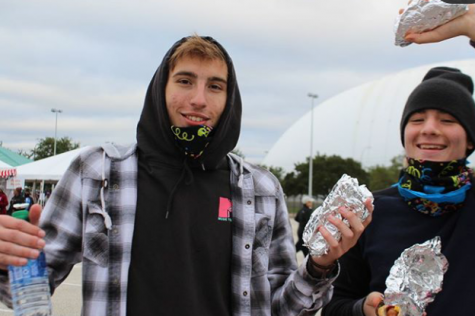 The past four years have created endless memories for the Cure for Courtney participants, including watching an all-inclusive video made by senior Emma Sawyer two years ago, participating in hotdog eating fests from senior Enzo Sperduti and dressing up this year's mascot, senior Bella Barrett's dog Vivi.
"The petting zoo is always fun," Smith said. "It's really funny because it's just a bunch of 17-year-old guys and girls running around having the time of their life among little kids."
With nine walks, nine t-shirt sales, and four movie nights, the Cure for Courtney cause has raised more than $60,000 for JDRF and educated thousands on diabetes.
"Diabetes is a disease that so many people have and communities need to know the facts to save lives," Smith said. "It's been such an amazing nine years."