'Among Us' brings students together
On a spaceship floating somewhere in virtual space, 10 colorful astronauts complete mundane tasks while simultaneously attempting to solve a murder mystery. Back on earth, millions everywhere stay glued to their phones swept away by the craze of a new trend.
The mobile game 'Among Us' surfaced during the months on lockdown and its popularity has soared since then. Although just about every student on campus has the game downloaded, one particular class has transformed it into a strong bonding experience.
Science teacher Cassondra Bulaclac's fifth period biology class convenes at the back of the class almost every day during advisory to engage in close games and heated discussions.
"One day we realized we all had the app on our phones and thought it would be a fun way to bond and get to know each other," senior Nikolas Skarzenski said.
At the beginning of the year, most of the students were unfamiliar with each other but the game has brought them closer.
"I didn't know many people in this class before," junior Makenna Rijken said. "After playing together, we all started talking more and became friends."
Despite not knowing much about the game, Bulaclac participates in the chaos on most days.
"They kept bugging me to play with them so I decided to join them," Bulaclac said. "I like trying new things and seeing how they work so it's been pretty fun."
Other students are sometimes deployed to help Bulaclac, who is a popular target for the imposter.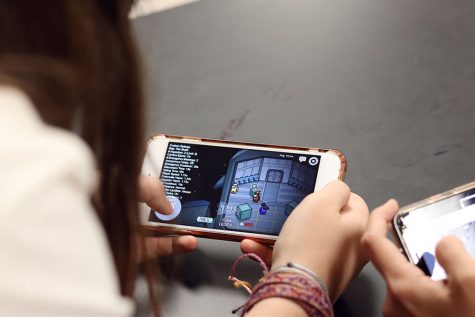 "I was an easy one to track down because I didn't know what I was doing," Bulaclac said. "I'm just trying to figure out what's going on."
When a dead body is discovered in the game, the classroom comes alive with shouts and passionate discussion. Accusations are thrown around but the students remain lighthearted and laugh more often than not.
"It's really fun and just a really good game to play with friends and family," Skarzenski said. "It brings camaraderie."
For some, it might be a mindless game. But many of these students employ specific strategies to get as far as possible.
"When I'm crew mate, I like to stick to the other people to be safe from the killer and keep an eye on others," Rijken said. "When I'm imposter, though, I just run around and try my best."
When it's someone's birthday, the class likes to have a "party" in the game and wear matching birthday hats to celebrate.
"It's a fun, casual way for us to celebrate," Skarzenski said. "It's a great alternative to other activities that aren't COVID-safe."
Despite how intense the games might get, the game has brought friendship between students and teachers.
"It's been really interesting to play with my teacher since they usually don't entertain us in that way," Rijken said. "Overall, I'm glad I've made new friends I get to enjoy the game with."