Wildcat Pep Walk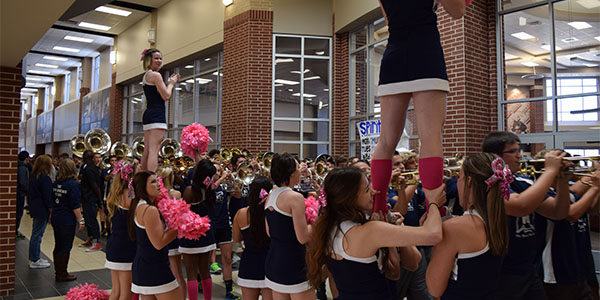 Many schools around the Tomball district have experienced what they call 'spirit walks' in the halls of the campus. Following suit, the first 'spirit walk' is being held five minutes before the bells rings in order to prepare for the game against Spring Woods tonight.
"Our band is going to start if off in the athletic hallway, and end the walk in the fine arts hallway," Student Council sponsor Irma Sibert said.
The Wildcat Pep Walk will involve the entire school and all of its extracurricular sports teams that are in season.
"All of the sports teams that are in season will be apart of the walk, along with; ROTC, Color guard, Drill team, Cheerleaders and the band leading them down mainstreet," Sibert said.
The entire school will be apart of this new style of pep rally for the school.
"It's only going to last about five minutes, but it should be an awesome five minutes," Sibert said.
The WIldcat Pep Walk has been kept behind the scenes except for administrators, teachers and a select handful of kids.
"We kept it a 'secret' because the idea came up so fast, and plus the morale will be so much better if the students aren't expecting it," Sibert said.
Junior Cheerleader Jana Brown has been looking forward to this Friday for quite some time now.
"I've known about it for two weeks now, I do wish we had more time to pep up the school like in a regular pep rally. But this is going to be really exciting for everyone," Brown said.
If everything goes as planned with the first Wildcat Pep Walk, it could very well be the new form of preparing athletes for their big games.
"If this goes well, we'll hopefully see more this year,"Assistant Principal Stephen Hinze said. "I think the Wildcat Pep Walk is going to make everyone's high school experience more enjoyable."