Wilson Rolls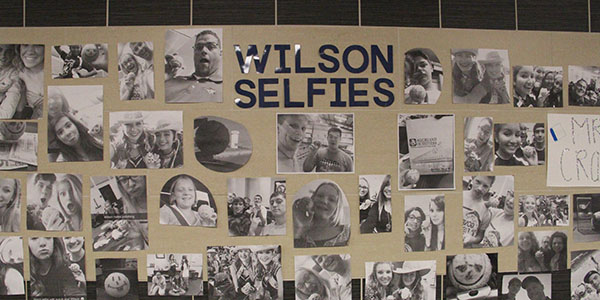 Passing from person to person, he has become one of the most famous and popular icons in school. He's friends with pretty much everyone, from the Wildcat Choir to the Silver Stars. Walking down the hallway, one must watch their step because Wilson may just be rolling around the halls of the school.
"Wilson is a tennis ball that comes to life," Junior Natalie Westmoreland said. "People and organizations can take selfies with him and take him places."
Students in Craft's classes already know who Wilson is because they get the opportunity to take him to events of their own.
"People take Wilson places so he can get a view of the world," Westmoreland said. "I'm taking him to this concert on Friday and we're going to rock out."
If Wilson isn't at a school event, he's with Psychology and Sociology teacher Daniel Craft.
"He's a tennis ball. And my friend. And my teaching assistant. And mentor for students. And a great listener. That's what he is."
Craft and Wilson have been good friends for five years, but sometimes their friendship gets a little heated.
"Our relationship is rocky, like a love hate relationship." Craft said. "I don't hate Wilson, but he doesn't always make the best decisions. Rolling down the hallway, distracting kids, things like that."
But when Wilson does make good decisions, he takes it to his advantage and shows how desirable he really is.
"He loves the attention and also loves taking selfies," Craft said. "He has his own wall and his own instagram, @wilson_rolls."
Being so involved in the school means that he always has opinions on recent events of the school, especially the most talked about event that happened not too long ago: the break in.
"He was angry at the break in because he loves this school," Craft said. "He has lots of school spirit."
Whether Wilson is at a football game, a band competition, or with the singing choir taking selfies, he always finds a way to show his love for the school.
"He's definitely the most popular ball," Craft said. "And it's only the beginning."