Stranded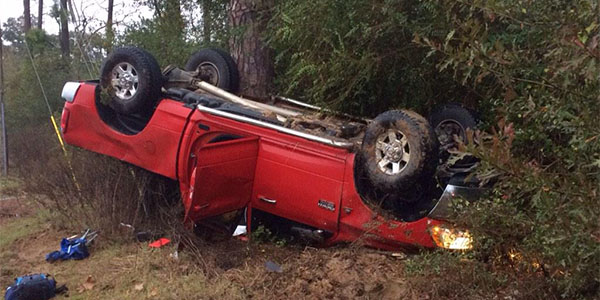 Hanging upside down, they look out of the shattered windshield as their world is entirely flipped. Tuesday, January 13th,  Juniors Levi Swang and Bryce Parker were involved in a car accident as they were both coming to school that morning.
Around 7:30 that morning as they were pulling out onto Spring Cypress Swang lost control of his 6.7 liter Cummins and began to fishtail out of control along the road.
"After the second time we corrected the fishtail, we lost all control," Parker said.
After sliding along the road spinning, they made contact with a curb on the side of the road.
"When we hit the curb is when it got bad. We slid in the dirt for 8 feet and then we flipped," Parker said.
After rolling the truck they were stopped by a tree and were then stranded inside the truck.
"Thankfully neither of us were hurt," Swang said. "When it first happened I checked to see if we could get out, and we couldn't so we had to wait for a passerby to open the door."
After safely getting out of the truck they were able to reflect on how lucky they really were.
"I was just glad that Bryce was okay, I can always get another truck but I can't replace my friend," Swang said.
The wreck was an accident that thankfully let everyone walk away virtually untouched.
"I believe that everything happens for a reason, I just don't know it yet. It was a pure freak accident," Swang said.