"Stroll the Toll" Gathers Tomball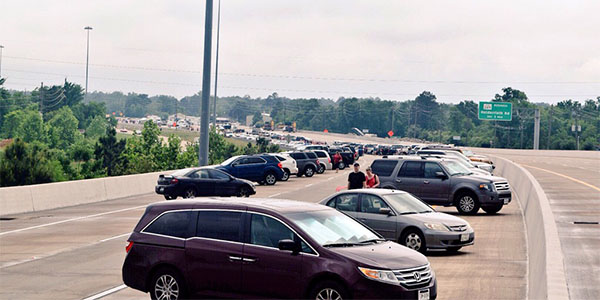 After constant traffic and $73 million spent to build the new Tomball Parkway Tollway, it opened on Sunday, April 12 with a celebration for the people of Tomball.
For the opening, TXDOT (Texas Department of Transportation) hosted a "Stroll the Toll" event that took place from 2 p.m. to 4 p.m. and gave people the opportunity to walk across the new Tollway. After the ceremony, both south and northbound lanes opened.
Even though rain and overcast skies slowed the event, over 500 Tomballians were in attendance to come support the new feat being brought through their town.
"It was a lot more than I expected with this weather, I thought for sure it would scare everyone away. I think the people in Tomball are a lot like me in that they never expected to see this, so to come out and see it, is just fantastic," Executive Director of Harris County Toll Road Authority Gary Trietsch said.
The new Tollway is not only going to be easier for traffic to flow through Tomball, but it also symbolises the massive growth the town as experienced in the past decade.
"I think everyone in Tomball as well as the other cities around it are going through massive amounts of economic growth, without the building of this infrastructure their lives would be a lot harder. I think this is not only going to be an easier way for people to get around but it will be a vital part to Tomball's economic development," Assistant Director of Maintenance and Traffic of Harris County Toll Road Authority Quinton Alberto said.
"Stroll the Toll" effectively rallied the people of Tomball to be together on this monumental feat for the town that was once a small Houston suburb.