Art Club is Back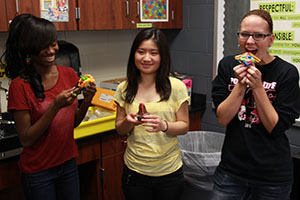 Come one, come all. The Art Club began the new school year yesterday with cupcakes. Students exercised their creativity with frosting, candy, and pretzel sticks.
Junior Victoria Allen won first place in most creative with her delicious lion.
"It just came to my head, and I thought, 'Hey, why not?'" Allen said.
Senior San Su won with her eye-catching volcanic creation in the creative category.
"It wasn't too complicated," Su said. "I had all of the ingredients to make a volcano."
Last but not least, Senior Chelsea McAllister won in the silliest category with her 'random' creation. With dashes of colors and piles of candy, McAllister's creation was truly random.
"I don't know why I made it. I thought it would be funny and different," McAllister said.
All of the winners chose prizes provided by Ms. Viator, and there is more to come.  Art Club is meeting again on October 15, this time there will be facepainting.