Choir Goes Country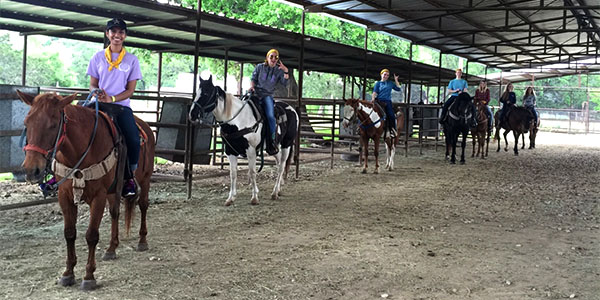 Training for the Cowboy Olympics, riding horses, and singing karaoke, choir had a memorable time at the dude ranch. Two weekends ago, choir went on a trip to a dude ranch located in Banderra, Texas. 
"Going to a dude ranch is something the students have never done before," choir director Sherry Miller said.
There were lots of activities for the students at the dude ranch, including horseback riding, hiking, karaoke, and golf. The most unique of these activities was the Cowboy Olympic games.
"My favorite things we did at the dude ranch were singing by the bonfire, the Cowboy Olympics, and horseback riding," junior Khushi Ramlogun said.
The students enjoyed being able to hang out with friends and explore the dude ranch, even if it was just for one weekend.
"I did new things that I haven't done before, like horseback riding," Ramlogun said.
There were approximately 40 students, who were accompanied by about seven chaperones. Everyone stayed in large cabins.
"The cabin was nice and modern," Miller said.
The trip was a good chance for the choir to bond as a family.
"It was a great time," Ramlogun said. "I got closer to the people in choir that I didn't know last year."