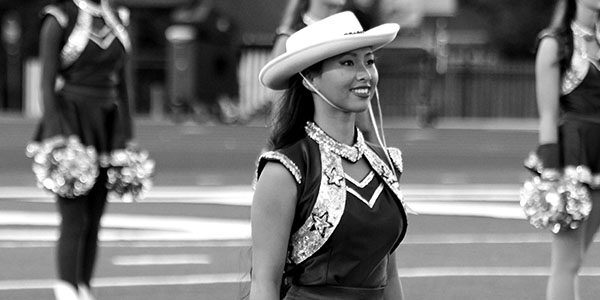 While some people simply know her as someone who dances in a sparkly cowboy hat and white boots in a line with dozens of other girls dressed the exact same way, she also spends her time observing doctors in hospitals while wearing grey scrubs. But soon she will soon be spending her days more intensely than that.
When senior Sarah Wuerker planned her future, she decided to pursue a career in becoming a nurse in the Army. It wasn't until the middle of  high school that she knew she truly wanted to be a nurse.
"I always knew I wanted to do something in the medical field," Wuerker said. "I used to think I was going to become a vet since I adore animals, but I later realized how much I truly enjoy working with people of all different ages and personalities."
She interviewed to be a nurse in the Army in September, and the Air Force in January. She received scholarships from both of the interviews.
"For the Army, I received one to Texas Christian University, which I transferred to the University of Tampa,"  Wuerker said. "For the Air Force, I received one to any in-state school in either Texas or Florida."
It was a big moment for Wuerker when she received both scholarships, but not everybody was as surprised as her.
"I was with her when she found out she got the scholarship," senior Kat Atchisson said. "I was excited for her, but I wasn't shocked. I knew she could do it."
She has great respect for both branches of the military, but without any regrets, she chose the Army.
"Despite what others might have wanted me to do, I believe the Army ROTC program at the University of Tampa will help me succeed the most in consideration of my personal goals and that is why I chose it," Wuerker said.
While some parents may not support their child pursuing a career in the Army, Wuerker is fortunate enough to have parents who just want her to follow her dream.
"We are so proud of her wanting to serve our country and make a difference in the world," said mother Cindy Wuerker.
Wuerker has many people in her life who have inspired her, but the one who seems to stand out by far is her Medical Terminology/Principles of Health Science and Clinicals teacher Christian Owen. She looks up to the way Owen is so passionate about her job.
"Whenever I see her get excited, I do too, even if it's over the tiniest thing that has to do with healthcare, it's like her dedication for it is contagious," Wuerker said. "I always think I want to be that passionate about my job, and I want to do something that excites me, something I want to share with others."
Although the intensity of the military may scare some people away, Wuerker believes that she is prepared for it.
"Since I've been in sports my whole life, like gymnastics, drill team, and varsity tennis, I think I will be ready or at least prepared for the intensity of the military," Wuerker said. "Being in sports has taught me self-discipline, determination, strength, leadership, and having a positive and open mindset."
Wuerker looks forward to this long but worth it journey that lies ahead of her. She see's herself teaching others what she has seen and learned in her lifetime in order to help people be the best they can be, just like she did.
" I will lead patients by encouraging their recovery and the value of life, no matter how much they may want to give up and I will lead cadets in the military by showing integrity, respect, and responsibility," Wuerker said. "Sometimes being a leader will come without a title, but having the understanding and knowledge of being self-aware, a team player, and community and global helper is what will prepare me for this and any leadership role."