2017 Senior Superlatives Released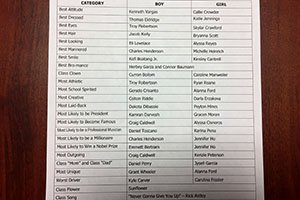 Hang on for a minute...we're trying to find some more stories you might like.
After much anticipation, the 2016-2017 Senior Superlative results have been published. The Yearbook segment features awards ranging from "Best Attitude" to "Most Likely to be a Millionaire". Winners were voted on by their classmates, with one boy and one girl chosen for each category. Yearbooks will be released at the end of the year, and are currently on sale for $80. The price will be raised to $90 on January 23.