Soaring to Victory Over the Eagles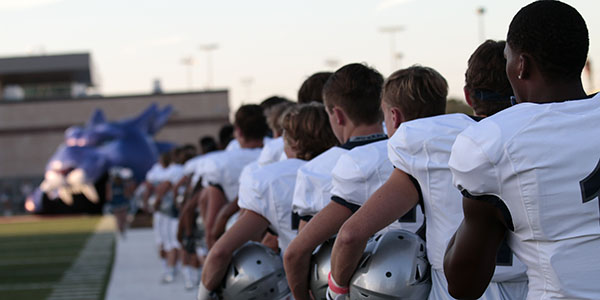 In the highest-scoring game of Wildcat history, the varsity football team played against the New Caney Eagles for the first game of the season and won 58-46.
The Eagles began with an early touchdown, soon equalized by a 59-yard touchdown run by junior Jordan Gidrey.  By the end of the first quarter, the Wildcats trailed New Caney 21-7.  In the second quarter, the Eagles scored another touchdown, matched by senior Dru Baker throwing a 26-yard touchdown to junior Jordan Grice with less than 10 minutes left until halftime.  Baker ran the ball for a 1-yard touchdown to end the half with New Caney still clutching onto a lead of 27-21.
Beginning the third quarter with a bang, junior Christian Lovick scored a touchdown on a 4-yard run in between touchdowns by the Eagles to bring the score to 28-34.  Baker threw a 66-yard touchdown to Reggie Robinson to narrow the gap to 37-40 with less than 5 minutes remaining, in a video posted by the Houston Chronicle.  New Caney scored yet another touchdown, only to be met by a 52-yard touchdown pass from Baker to senior Trenton Chinn, bringing the scoreboard to 44-46 at the end of an eventful third quarter.
The Wildcats took the fourth quarter by storm, with Gidrey making a 40-yard run to tip the score in the Cats' favor.  Lovick scored another touchdown with a 26-yard run, bringing the score to 58-46.  In the last minute of the game, sophomore Braedon Nutter recorded a sack that ended the Eagles' last offensive, sealing in the Wildcats' first victory of the season.
This Friday, the Wildcats will face off against the Galena Park Yellowjackets at Galena Park ISD Stadium.