Area Musicians Advance to State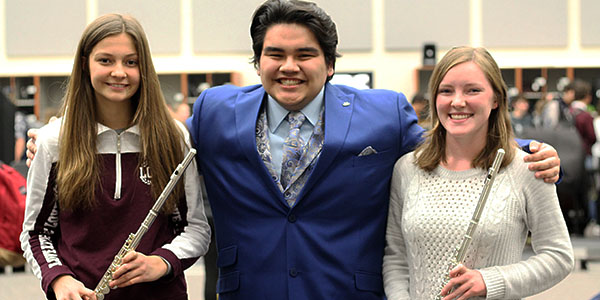 On January 13, junior Audrey Cascarelli and freshman Audrey Faucher travelled to area auditions to compete for a chance to perform at state. Hours of preparation combined with the courage to stand in a room of talented musicians created two top scoring musicians in the area.
"I practiced for half an hour everyday," Faucher said. "Even then, I still didn't think I would make it and I was certain I had gotten sixth."
Doubt continued to plague Faucher even with the results.
"I saw my name in second place, and initially I was crazy excited," Faucher said. "Then I realized it could not be me but rather the other Audrey."
Underestimation of her own abilities dissolved into disbelief when she found out she was advancing to state.
"I read my name over and over until I realized I had placed second." Faucher said. "Audrey Cascarelli had placed first."
Cascarelli and Faucher will both be advancing to state and will be competing in San Antonio on February 14, along with Aron Olivares who placed sixth at the choir area competition.